We woke up with the alarm to start early. We never slept to long so it was not a big effort for us. We made ourselves some breakfast and drove a bit further to Wai-O-Tapu which includes the largest area of thermal activity on the surface. It was formed approximately 160,000 years ago and includes mud pools, pools on boiling and cold water, collapsed craters as well as water and steaming fumaroles. Although I really wanted to see this geothermal area, I regretted it very soon, because the smell was pretty bad. I know some of my colleagues will laugh now, because I turn up my nose everytime they use deodorant in the office 😉 but I never really got used to the odors and had to even cover my nose with my jacket.
But getting back to the topic: we paid 65$ for both of us. And as we arrived pretty early, we could have a look at the first pools before we had to get back to the car and drive to the Lady Knox Geyser. Yes, you read right – drive. We wanted to walk, but they didn't let us, so after we did the first and shortest route, we drove the short way to have a look at the outburst of the geyser at 10:15 am. Every day at this time they put a bit of soap in there that let it erupt.
After this we got back in the car and made our way back to the pools. We did the other 2 walks and after this, went straight to Whakarewarewa to do a guided tour, which we booked the day before via Bookme. This app helps you to get better offers around the places you stay.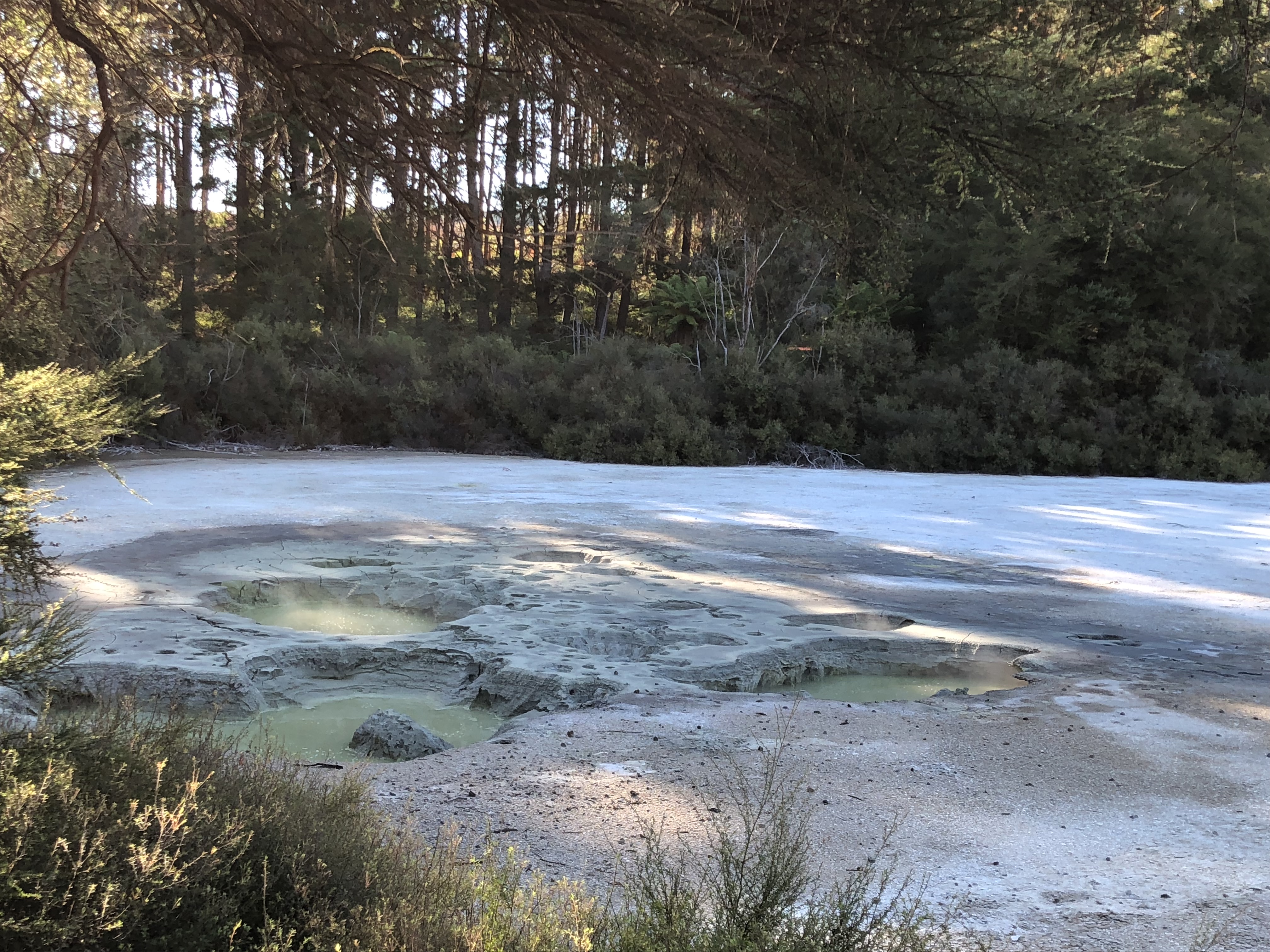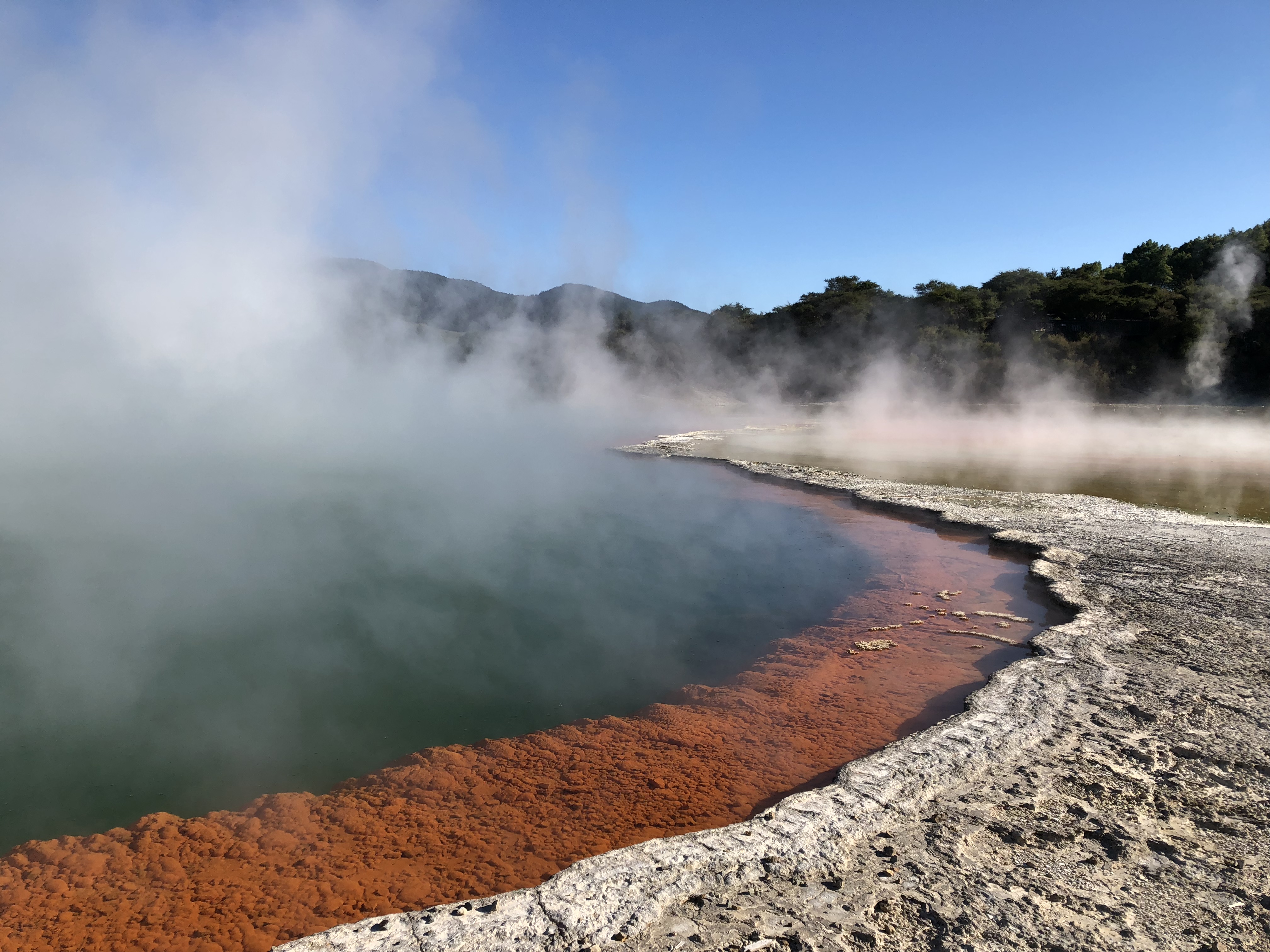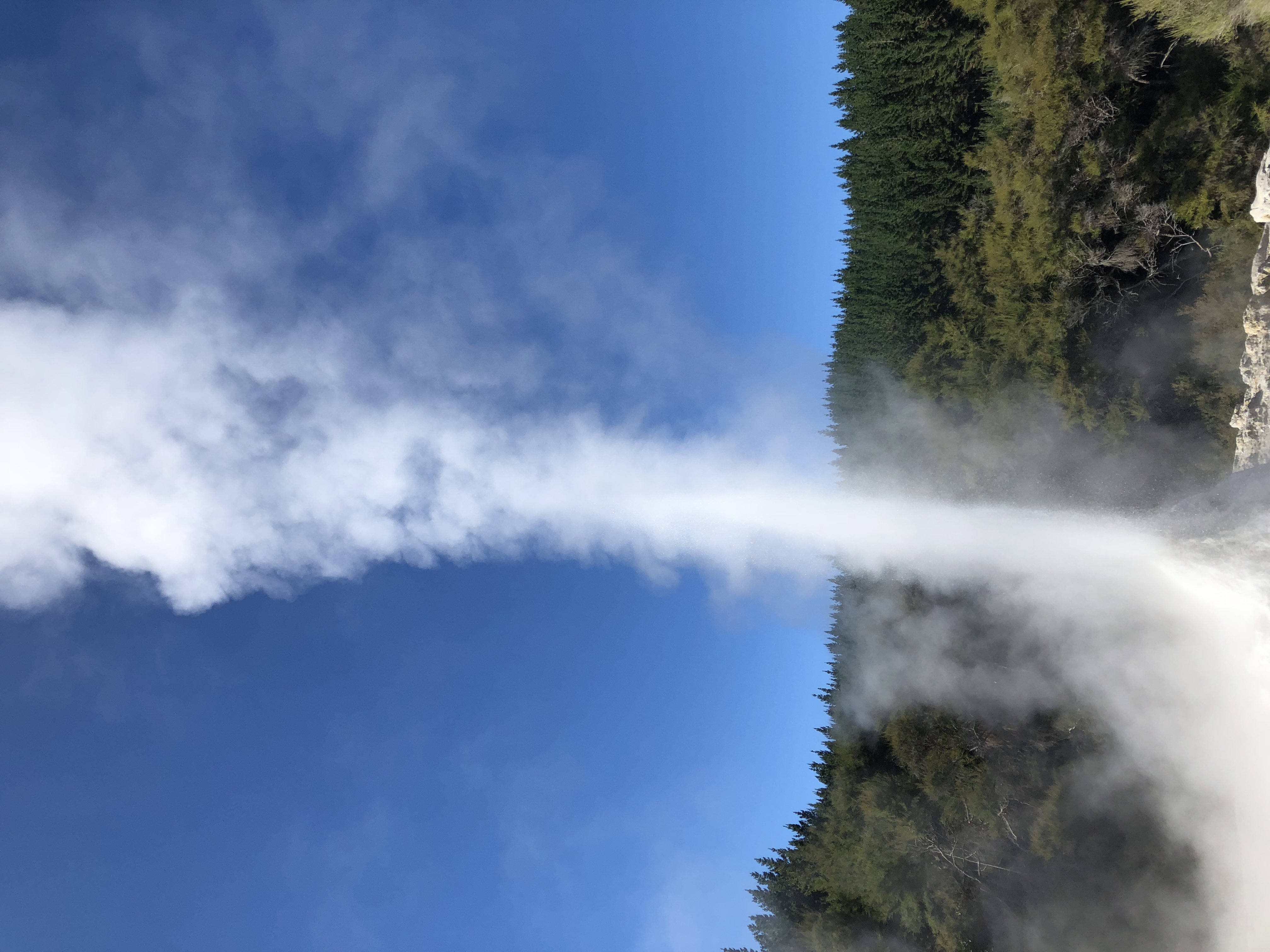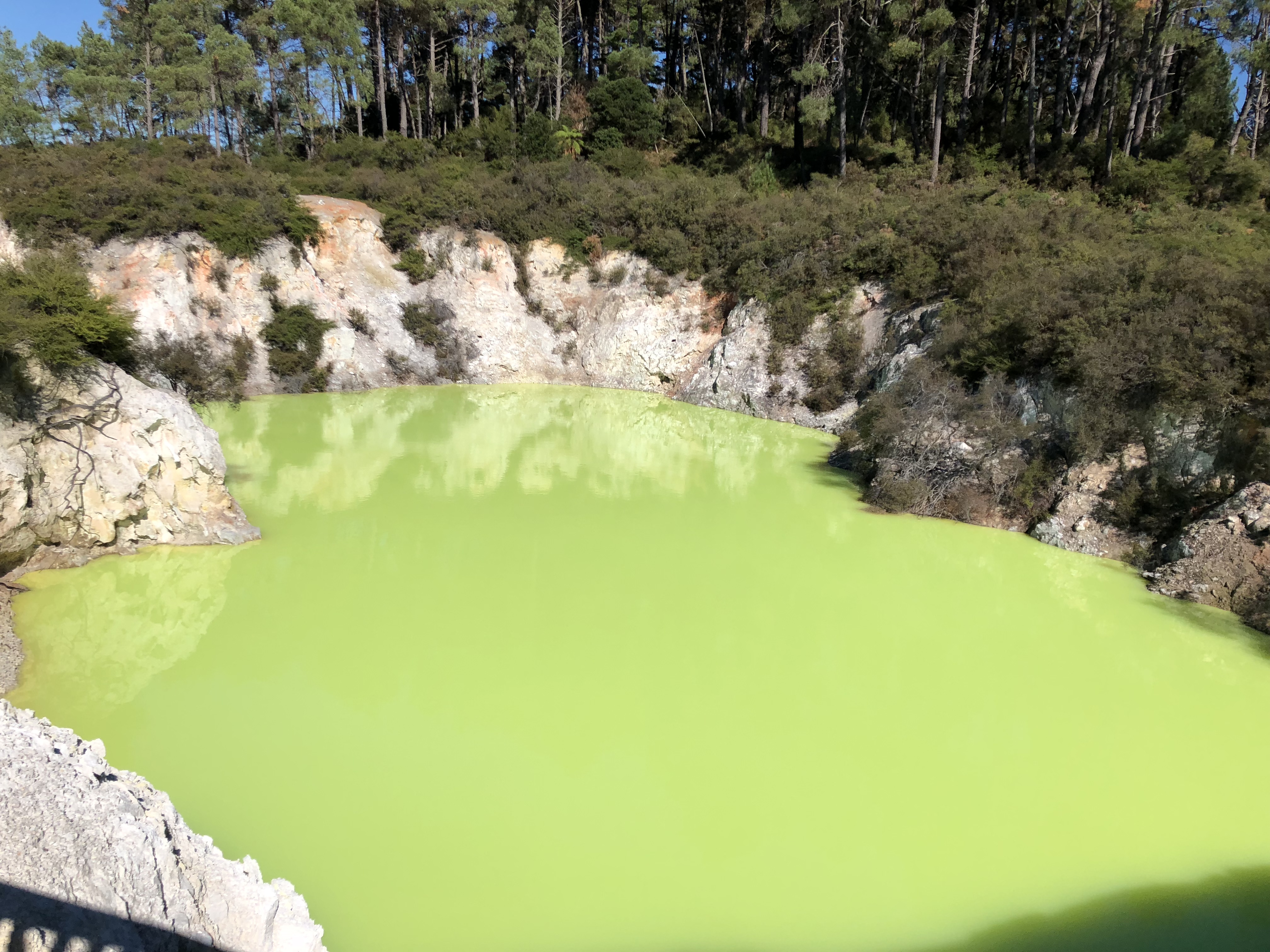 Originally this is a village, where Mãori people still live in and the full name of it is Te Whakarewarewatangaoteopetauãawãhiao. Try to read it out loud. I did so but it didn't work out very well 😉 The village is also part of the geothermical area. And again it didn't really smell that good 😖 Some of the people, who live there are actually also working there but the majority does not. For tourists the village is just open until 5 pm, because that's the time, when the residents come back from work. So that they can have a bit of peace in their free time.
What you can see there is one of their sheds they had before they built normal houses.
They also have natural microwaves. That's a hole in the ground, where steam comes out and they just put meet or veggies in there, wait some time and it is freshly cooked.
After our tour we got some lunch, Hagi (pie with potatoes, carrots, corn and meat) with corn cooked in the geothermical pool for just a minute or so. But lucky it didn't taste like the area smells.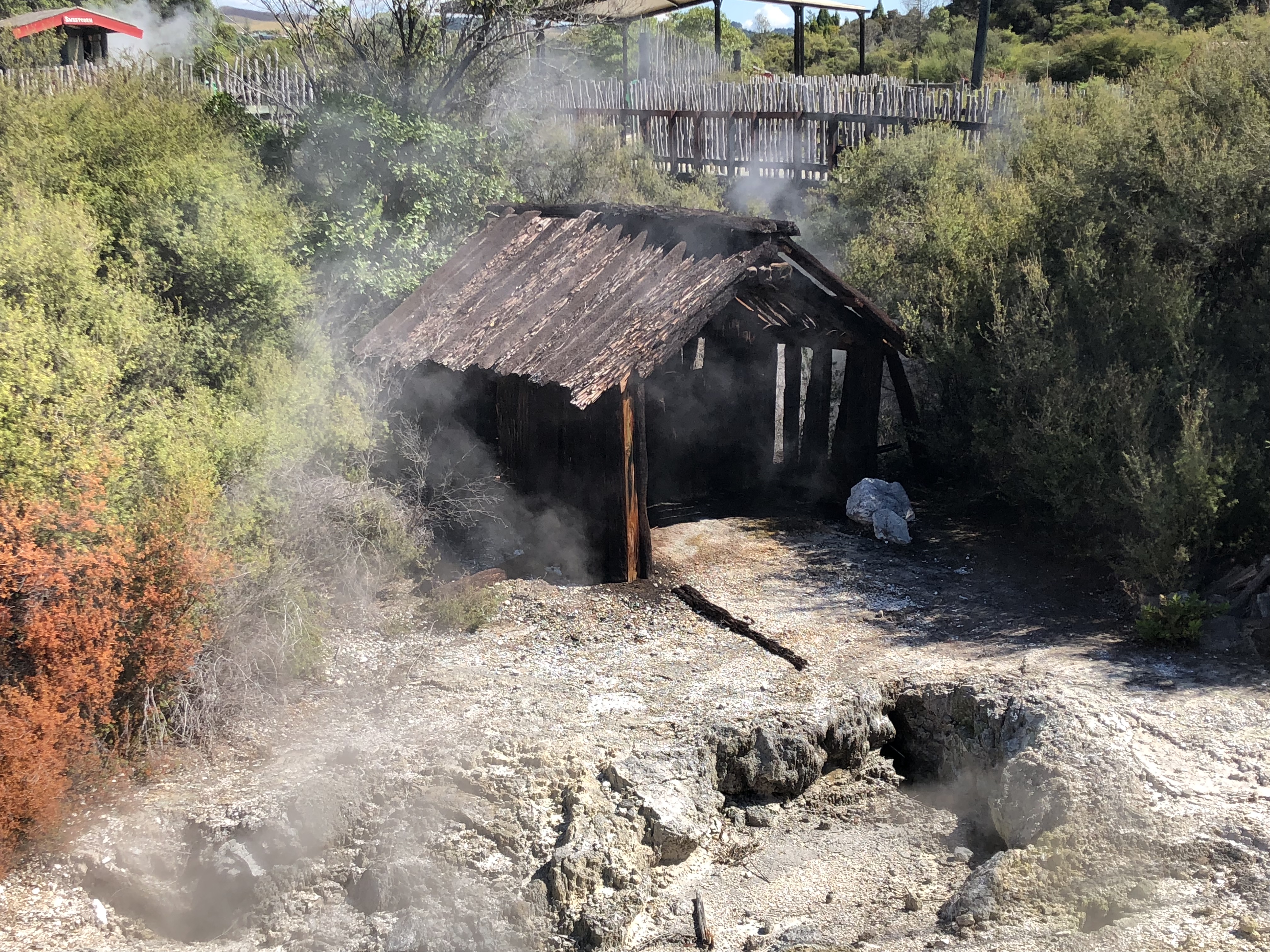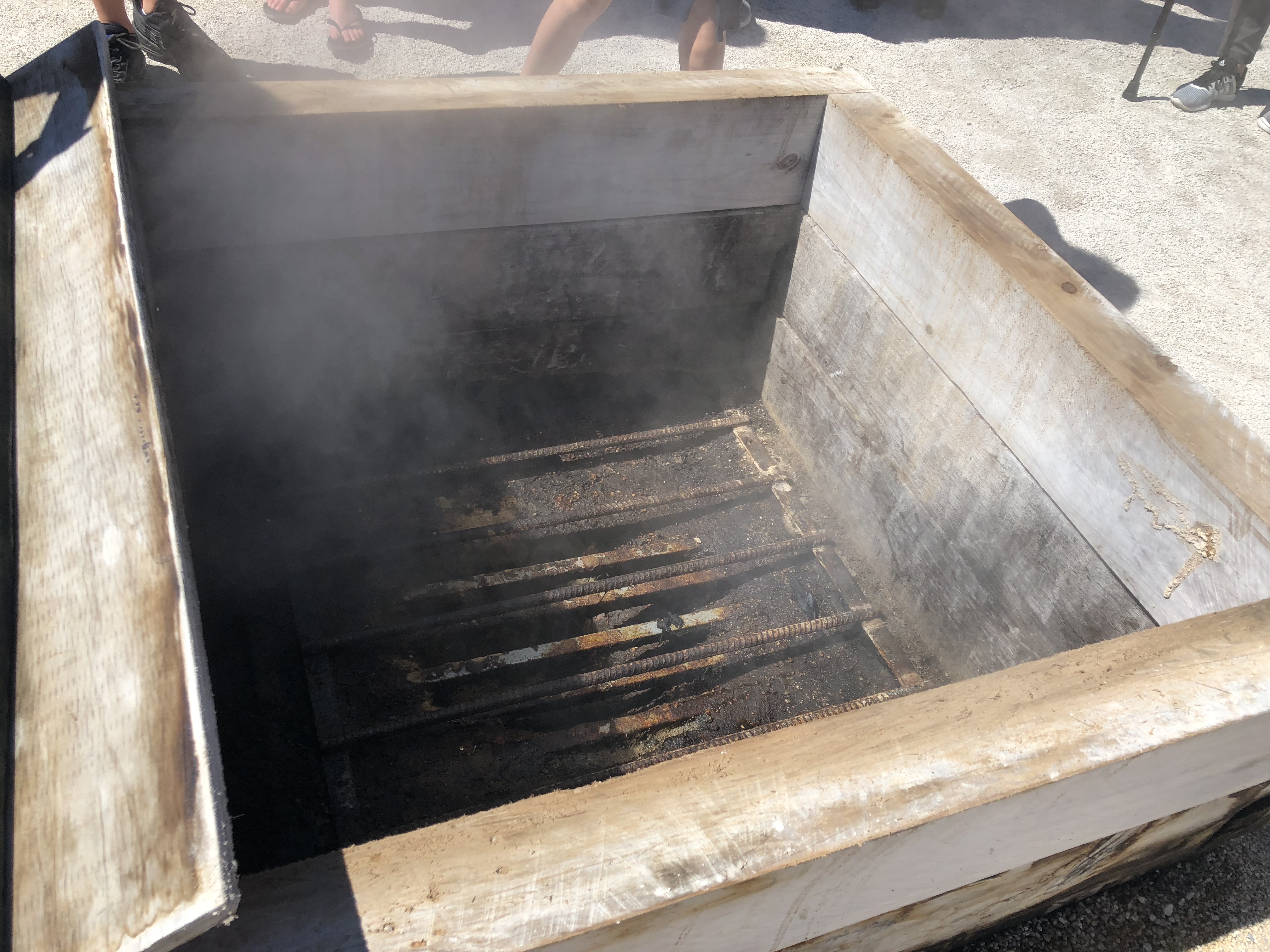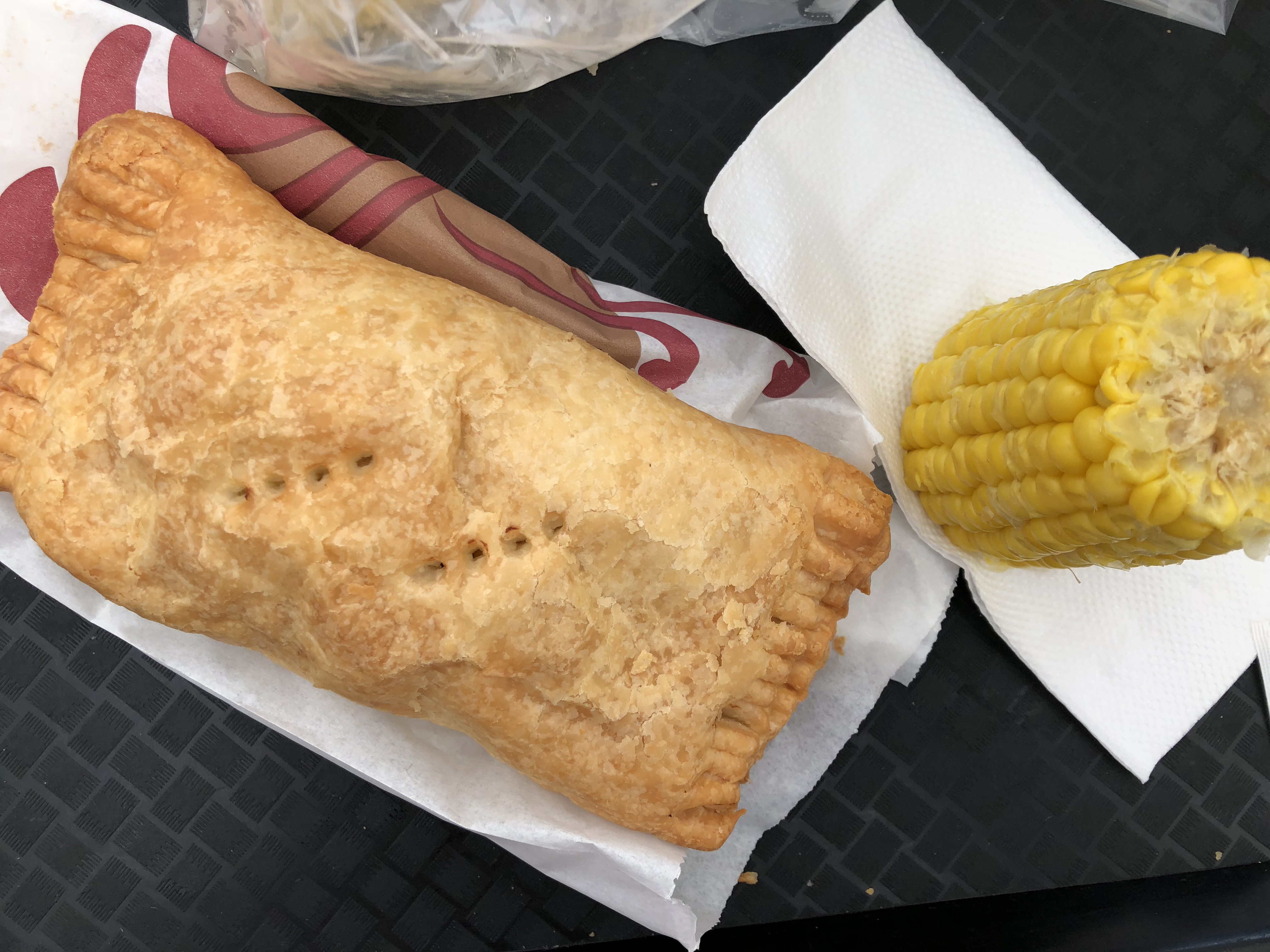 After our tour we saw a little show, where they also danced the Haka, a traditional dance which is normally just used as a war dance from the Mãori.
http://traveljunkies.eu/wp-content/uploads/2019/03/img_8787.mov
After the living village, we looked for a dumping station to get rid of the black water. So Basti emptied the toilet and there we go, we lost the cap of the toilet cassette. It felt right into the dump hole. Strange that it exactly fits, but there was no chance to get this one back, so we had do get a new one, without letting our car rental company know. Because then it would have cost a fortune. So the next stop was a camper repair shop but unfortunately they didn't have one. They adviced us to another shop, but this one was a 1.5h drive away, closes every day at 5pm and it was already 3:30pm, so no chance to make it that day. But without the cap we couldn't use the toilet in the camper and couldn't stand on a self-contained campsite. So we defiantly had to get one that day. Out last chance was another repair and rental shop in Rotorua. And they got one, lucky us! It wasn't green but no one ever paid attention to the color, as we returned the van. And finally we could use the toilet again 😉
So after all that hesitation and a stressed out Basti, we needed a shower. And as there are some available in almost every city, we choose to take the one at the i-site. That's an information center, which is in every big city. This time the building was actually pretty nice and they even had a chill out area in the front.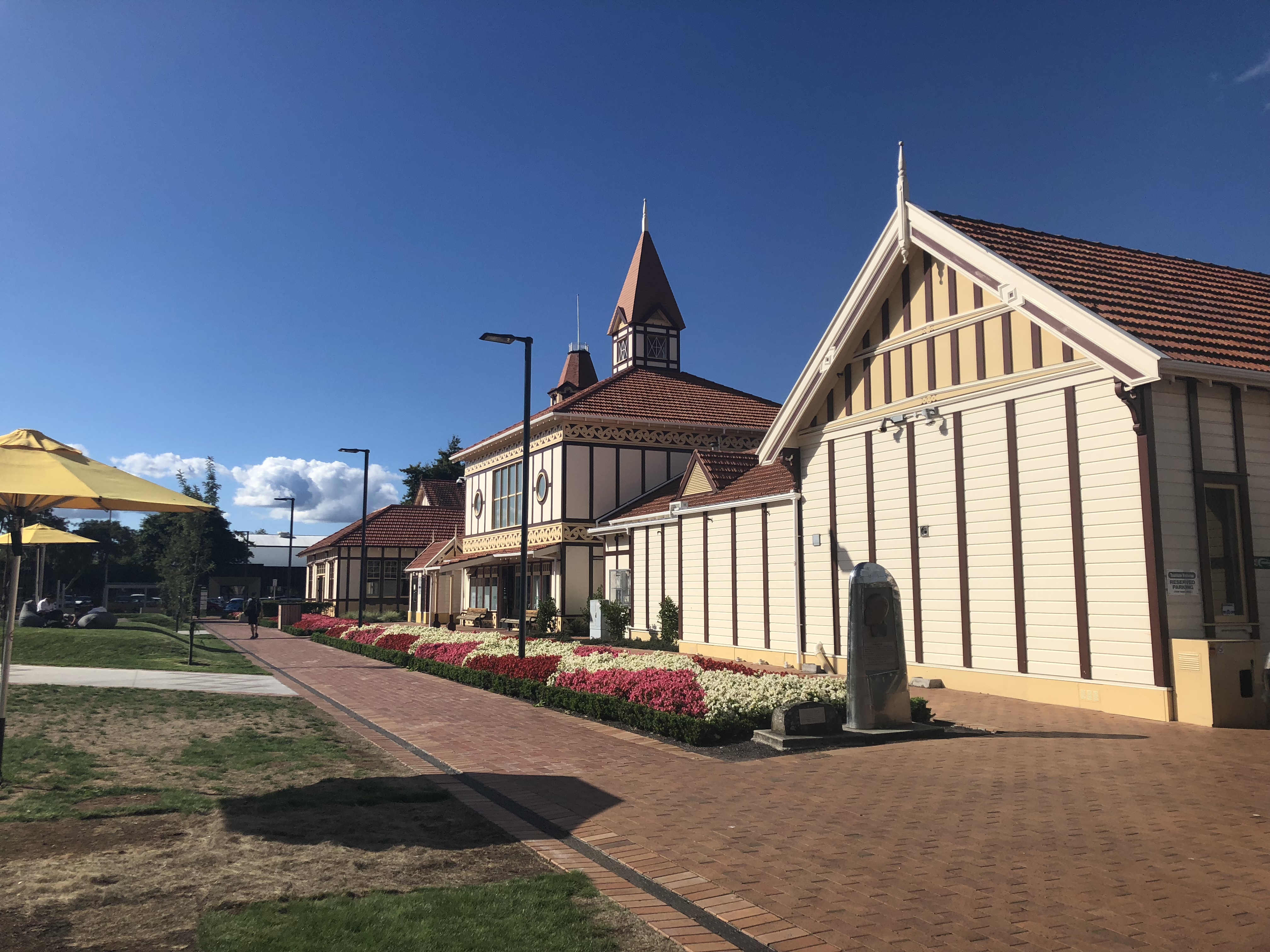 After a refreshing cold shower we saw that there is supposed to be a night market from 5pm to late evening. So we walked along the way. We thought here would also be some more stuff instead of only food. But that was more or less it. Lots and lots of different food. We could even play games. Theses ones just didn't have the normal sice. They were almost as big as my hip. I know for some of you may think now that's still pretty small but it was fine for me 😉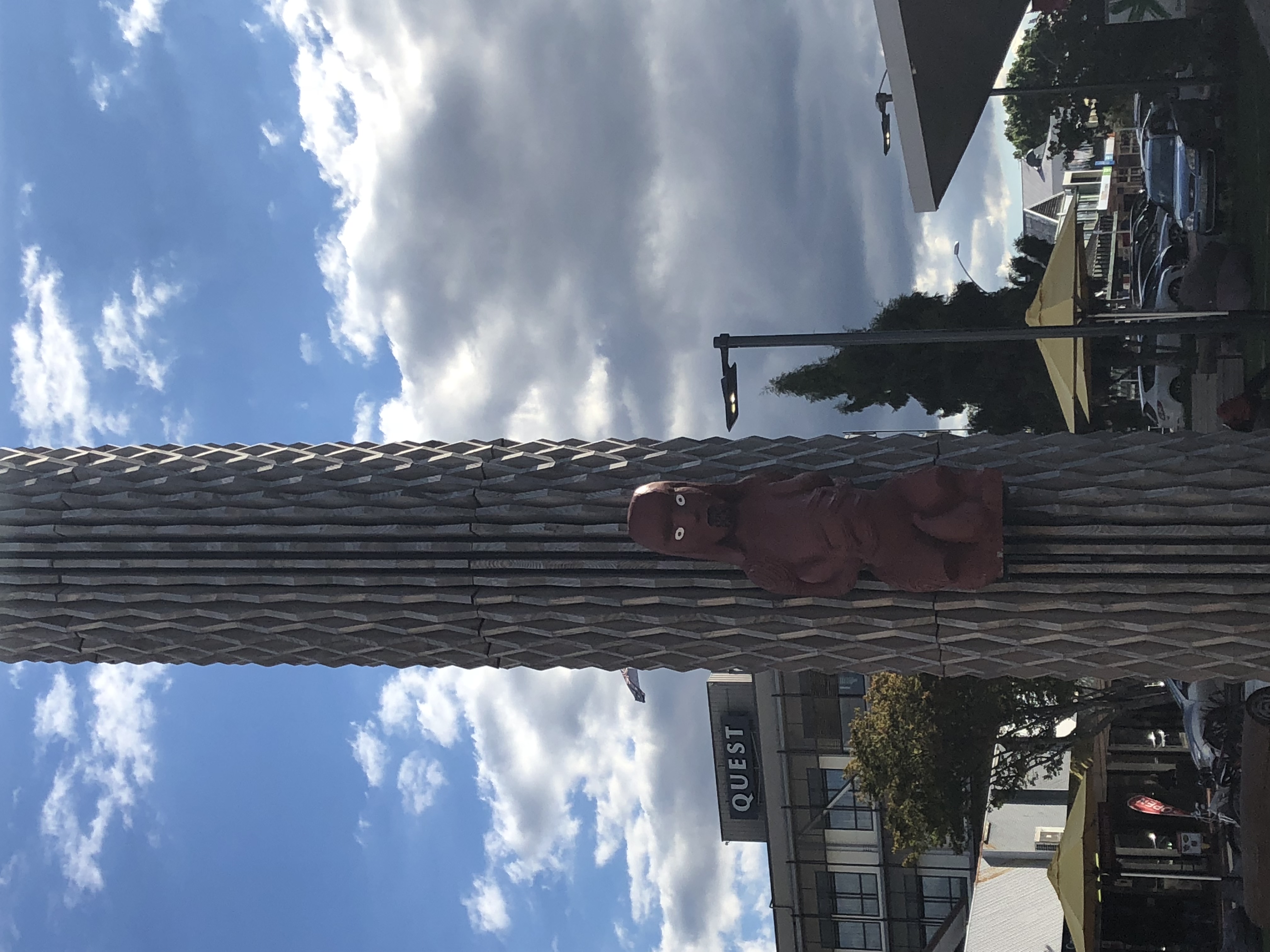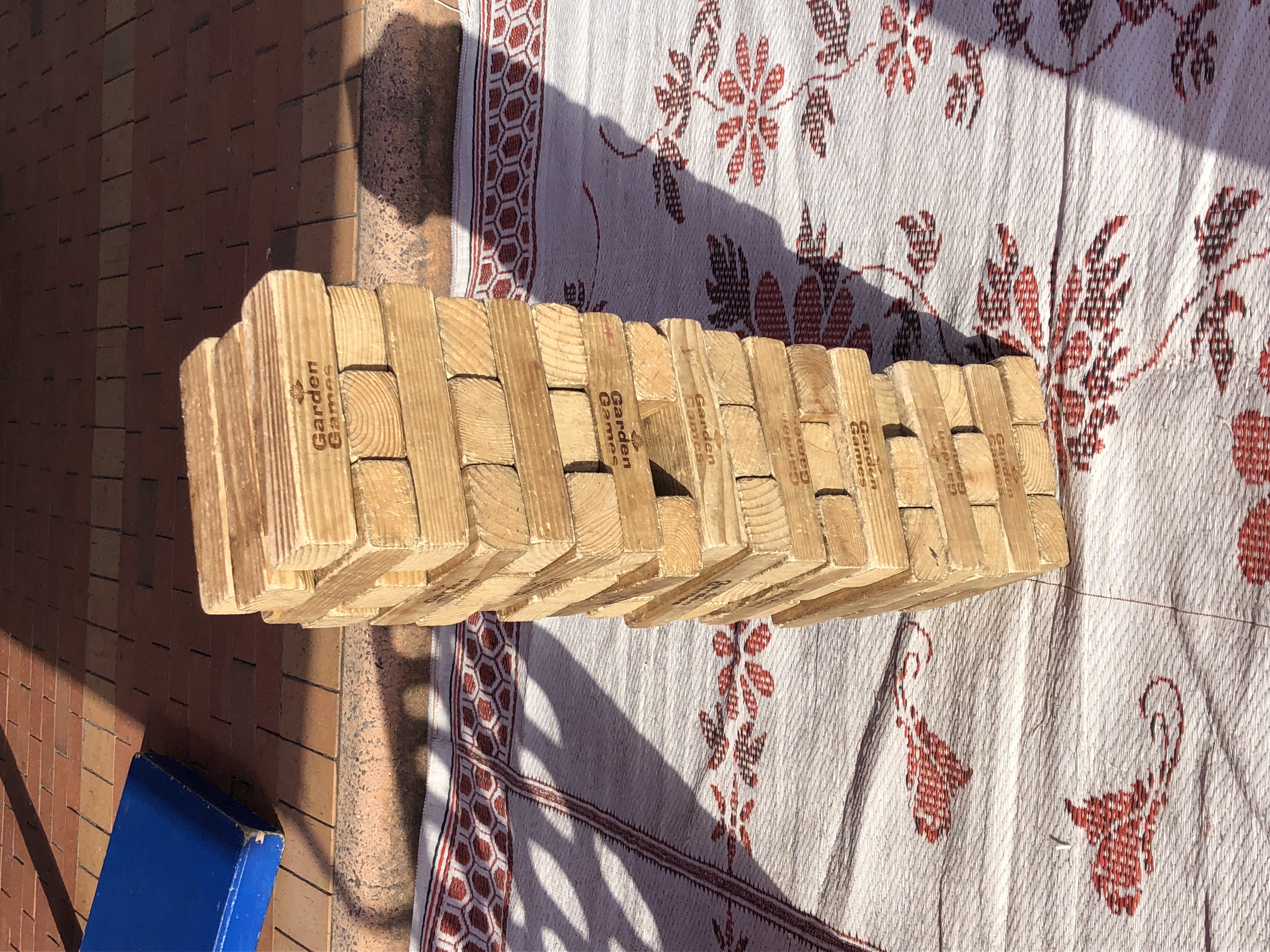 After a short stay at the night market, some ice cream for me and an irresolute Basti, we were looking for a nice place to stay for the night and to grill some stuff. We found a very nice one near a lake with a great view and lots of space, where we spent the night.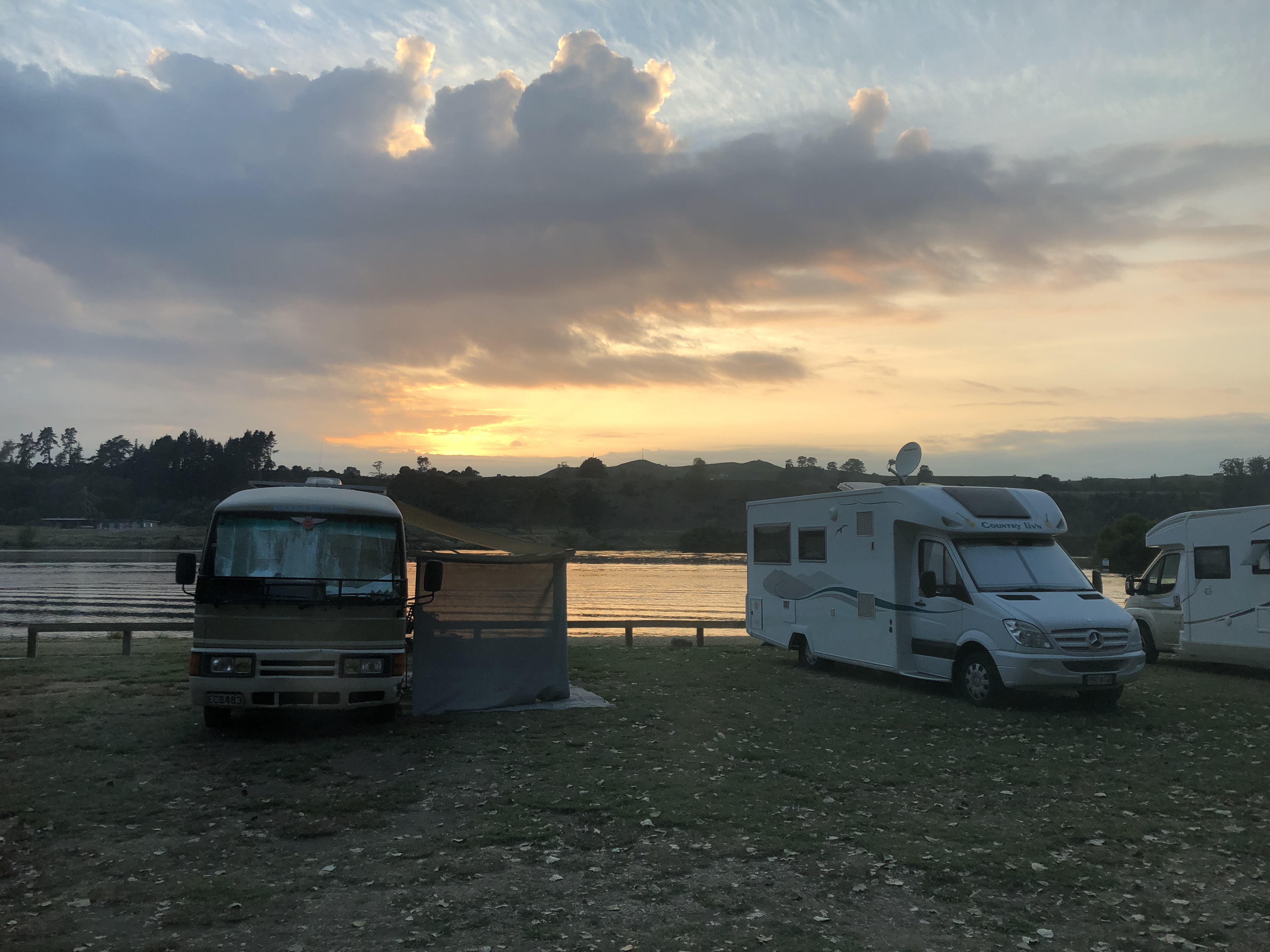 Next time we gonna see some hobbits 😉 – so keep on track