After arriving in Hanoi our first thought was: we have to get away here immediately because we went from no traffic and almost no people to thousands of people and even more motorbikes.🙈
We survived the first evening and night with a Pho Bo and try to cross the street with care. It's even much more worse than our traffic in the city after end of work.
We planed our second day with Google trips. That's a pretty cool app, which shows you interesting sights in the cities, tours and activities with locals, as well as special offers and restaurants.
We started with the St Joseph's cathedral. Well that church is nothing special, at least for us.
After this we visited the Hoa lo prison. It was a prison for Vietnamese patriotic and revolutionary fighters. The French colonialists set the court system, employed a lot more police men & built several prisons to strengthen their ruling administration. The people who have been kept imprisoned were mentally & physically tortured with bad food, poor sanity conditions, a lot of diseases and poor options for personal hygiene. Although they had to go through very bad conditions, they turned this prison into a revolutionary school. Some of them could also escape by digging wholes with spoons to fight for their believes and against the French. After the liberation of North Vietnam in October 1954 Hoa Lo was transformed to imprison regular prisoners before it was used to capture American pilots from 1964 to 1973, during the bombing raids of North Vietnam. After 1993 a part of it was renovated, they built up a monument and transformed it into a historic relic.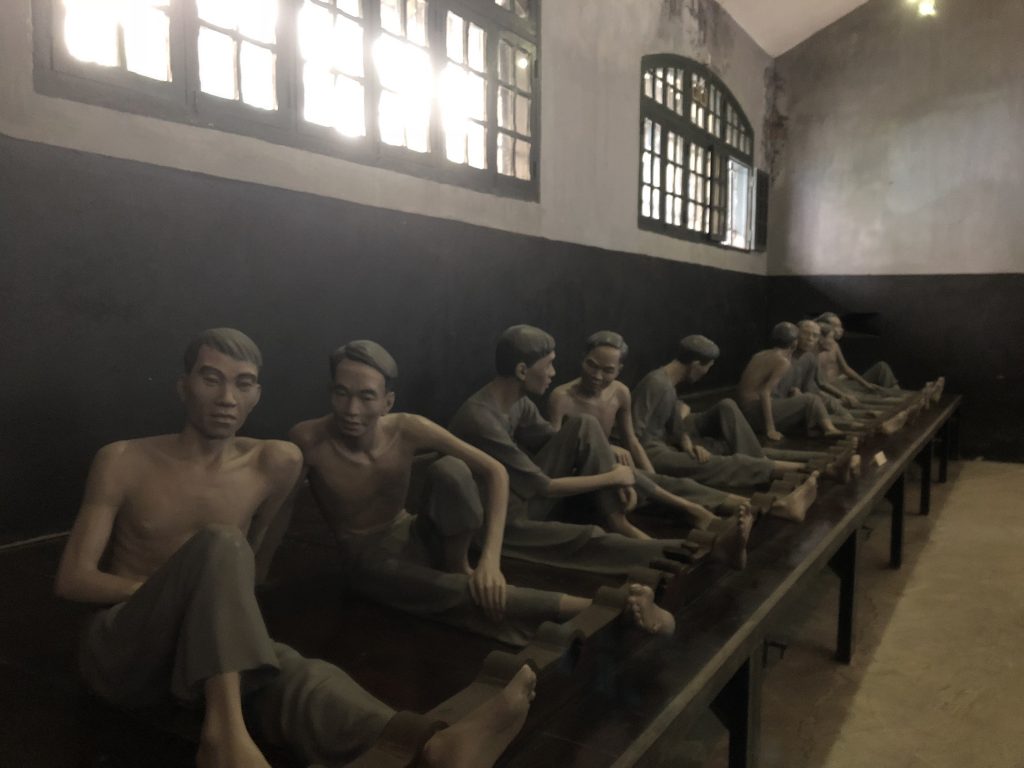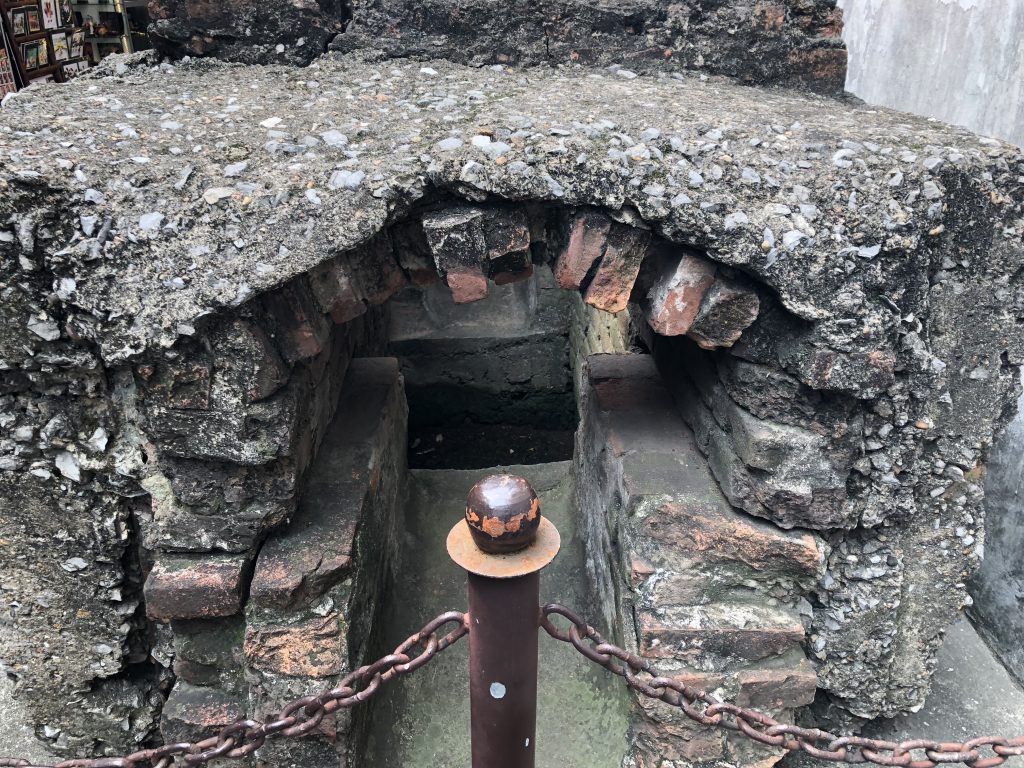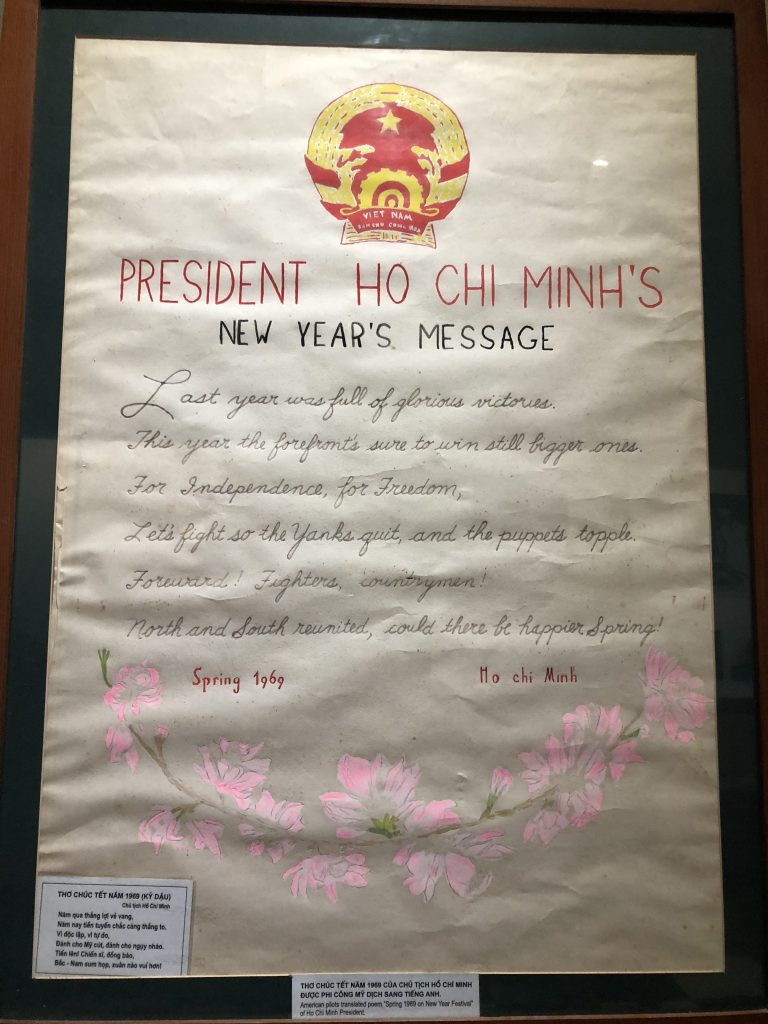 After this we went to Quan su pagoda. That's the headquarters of the Buddhist Sangha of Vietnam. The temple was built in the 15th century. Before people had just cottages to worship. In the 19th century the temple was renovated, and as the troops withdrew, it was given back to the villagers. The front place is dedicated to Buddha and the rear place to Master Minh Khong of the Ly Dynasty, who ruled, as the temple was built.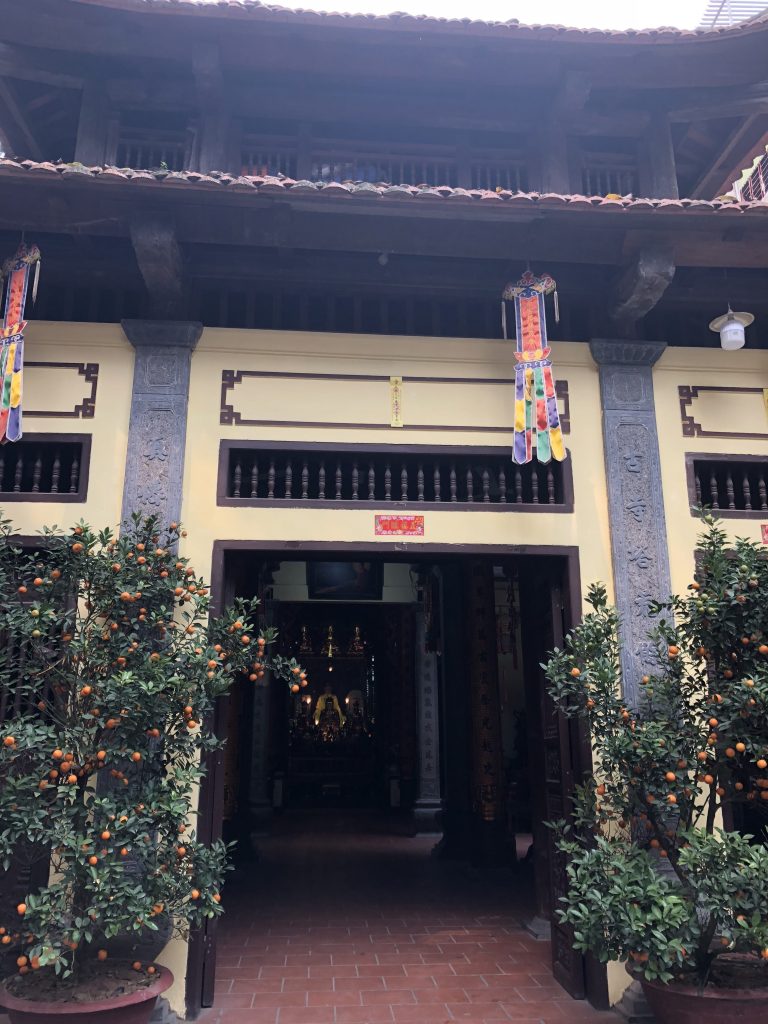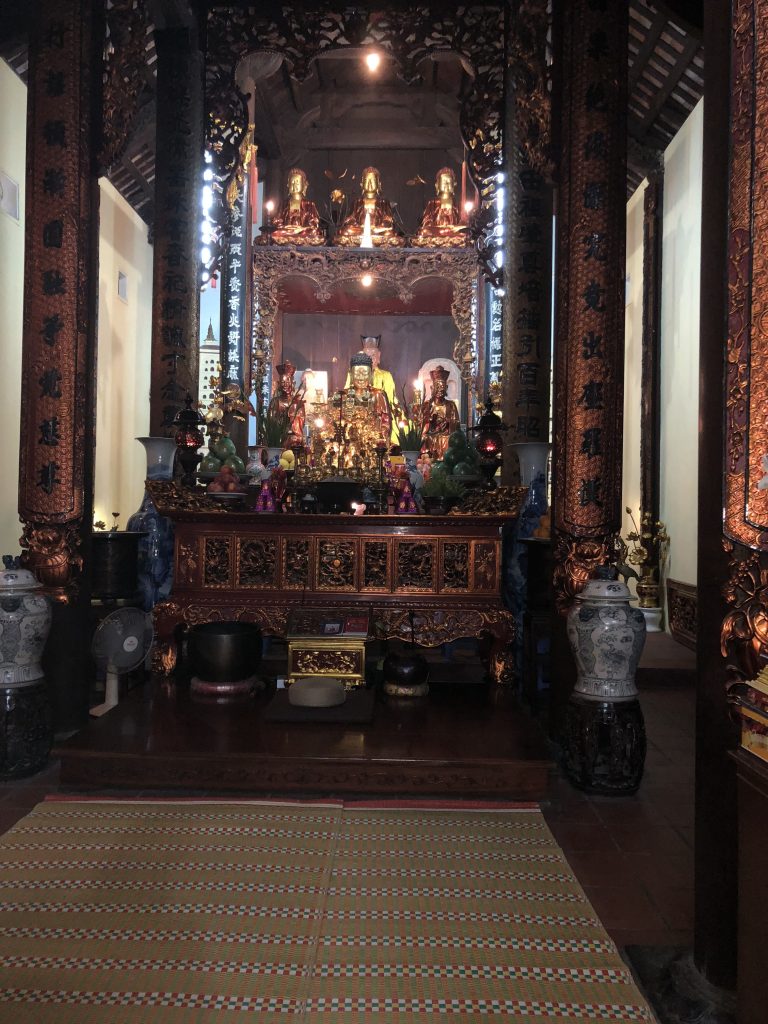 We continued our trip to Chua vu Thach, another temple in Ha Noi, and the opera house. Unfortunately you couldn't have a look inside. You have to buy a ticket to see the interior. We passed a couple of statues and the Gouvernement House.
Our last stop of the sight seeing tour this day was Ngoc Son Temple on Jade Island in Hoan Kiem Lake. The lake is a famous site for tourists and Vietnamese to relax and flee from all the traffic. On the weekend all cars and motorbikes are expelled from the streets around the lake. The Ngoc Son Temple was built in the 18th century. A legend tells that an emperor once given a magical sword, which helped him defeat the Chinese Ming Dynasty. After this success the Golden Turtle God returned to the lake. There is a second little island on this lake, with a tower called Turtle Tower on it, in memory of this legend. But there is no access to it. It's told that there are large soft-shell turtles swimming in the lake. But the water was so brown, that we couldn't even see some fish in there. The Ngoc Son Temple is dedicated to General Tran Hung Dao who defeated an armed force of 300,000 soldiers sent by Mongolian Emperor Kublai Khan in the 13th century to invade Vietnam. Within the temple we saw some artefacts and preserved giant turtles found in the lake. From this turtle are just 3 animals left on the whole planet. One female died just recently at the age of 90, as researcher tried to fertilize her… Hopefully this species can still reproduce, but there is not much chance left, unfortunately!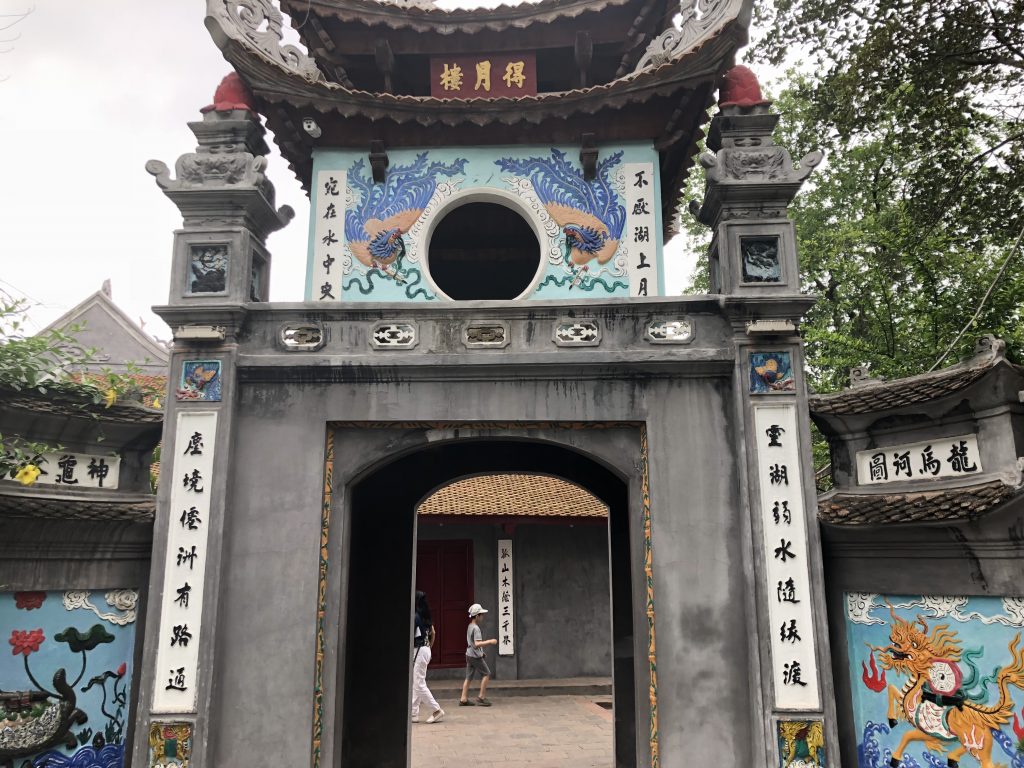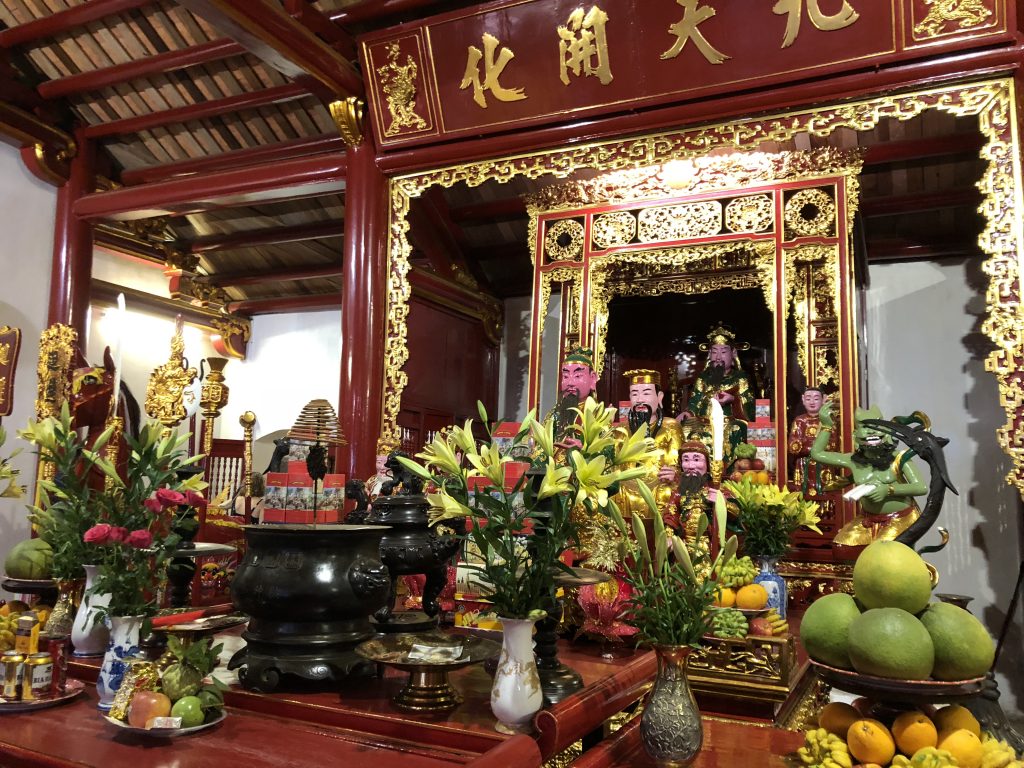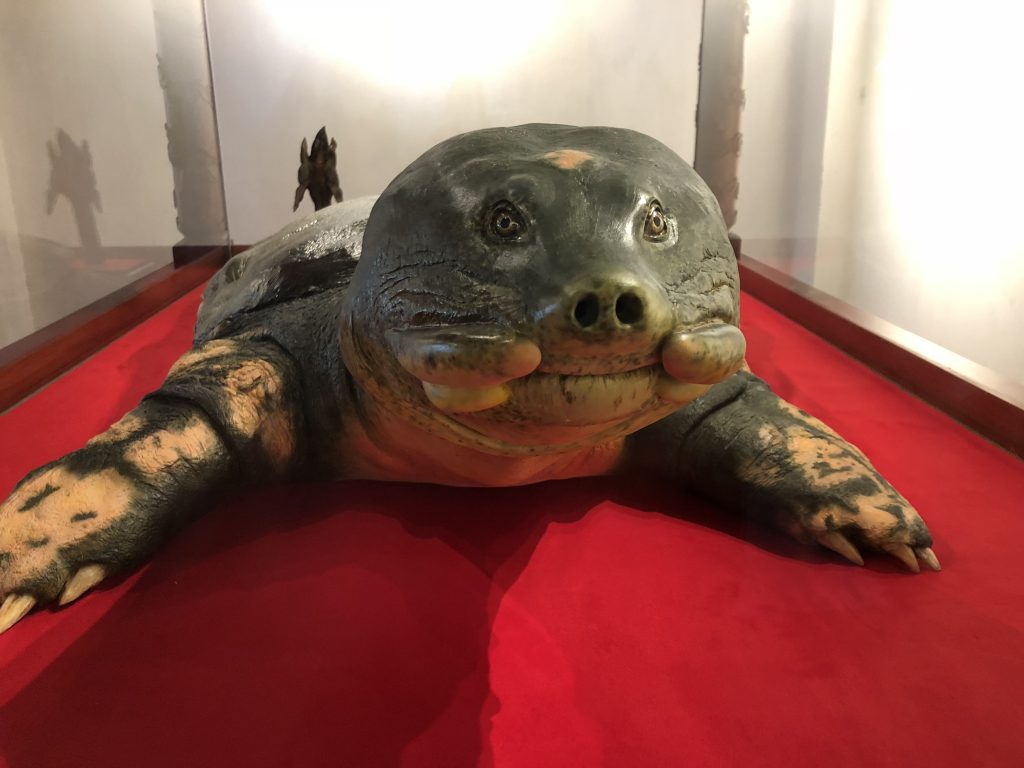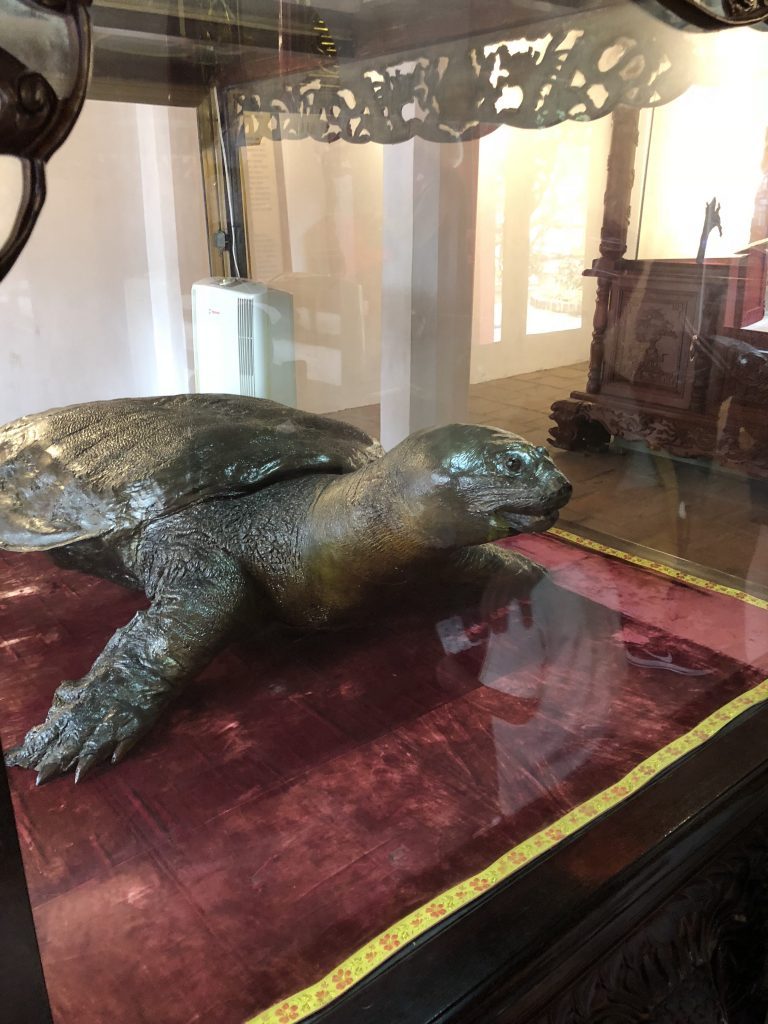 After walking 10 km in 5 hours and 35 degrees we needed some rest at the hotel. After an hour or so we started to get some egg coffee, or in our case some egg chocolate, because that's one of the drinks, famous in Vietnam. We got to a famous restaurant for that. Luckily there were not just only tourists there but also some Vietnamese. We had to sit on really tiny plastic chairs, where you can't stretch out your legs. We ordered an egg chocolate, because both of us don't drink any coffee. It was different but still pretty tasty. We tried the cold and hot variation and I have to say, that the warm one is better.
Returning to our hotel we had to get ready for dinner. We organized a special one with a local family. These things are easy to find within the "Withlocals" app. We arranged a Grab (Asian Version for uber) and got to Hannah. She already had the whole dinner cooked as we arrived. We had some rice cakes, spring rolls, cucumber salad, pork, chicken, water spinach, fish and fresh fruits for dessert. They taught us how to use chopsticks properly and we talked a lot about Vietnamese people, the culture, a bit about the history and also a bit about German history and economy with Hannah and her husband. At the end we even got a little privat concert from their daughter playing the piano. That sounded great! After the end of the dinner we took a Grab back to our hotel and just felt asleep. Stuffed with food and exhausted but happy.
There is even more to discover in Ha Noi. So don't forget to have a look at new posts now and then!