We had to wake up pretty early because we had a booking for the ferry to the north island at 9:05am. On our way to Picton we could see an amazing sunrise and a few women carrying a torch. So we thought for a second this could have something to do with Olympia, but that was the total wrong direction. They were running for peace from north to south and visit schools on some days. They run 100 km each day and think that it will take them 4 weeks for this project. I think that's great after what just happend in Christchurch.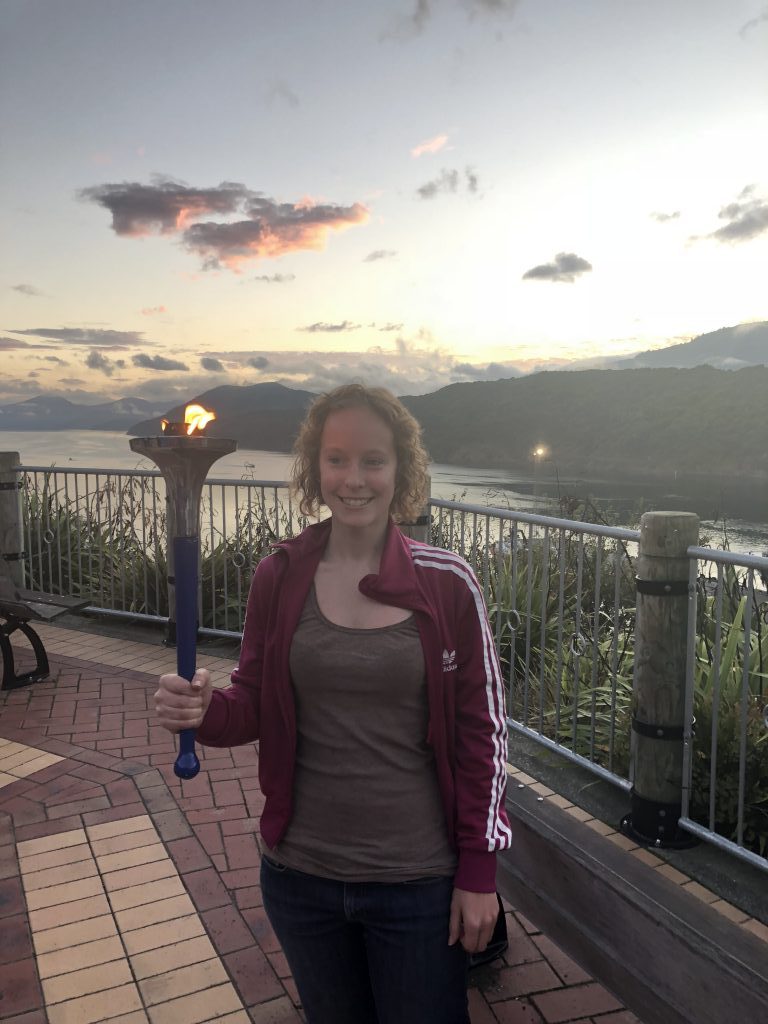 After my short encounter and then just giving me the torch and making pictures, we went to the ferry to wait in line. Luckily the forecast said that there gonna be just light waves.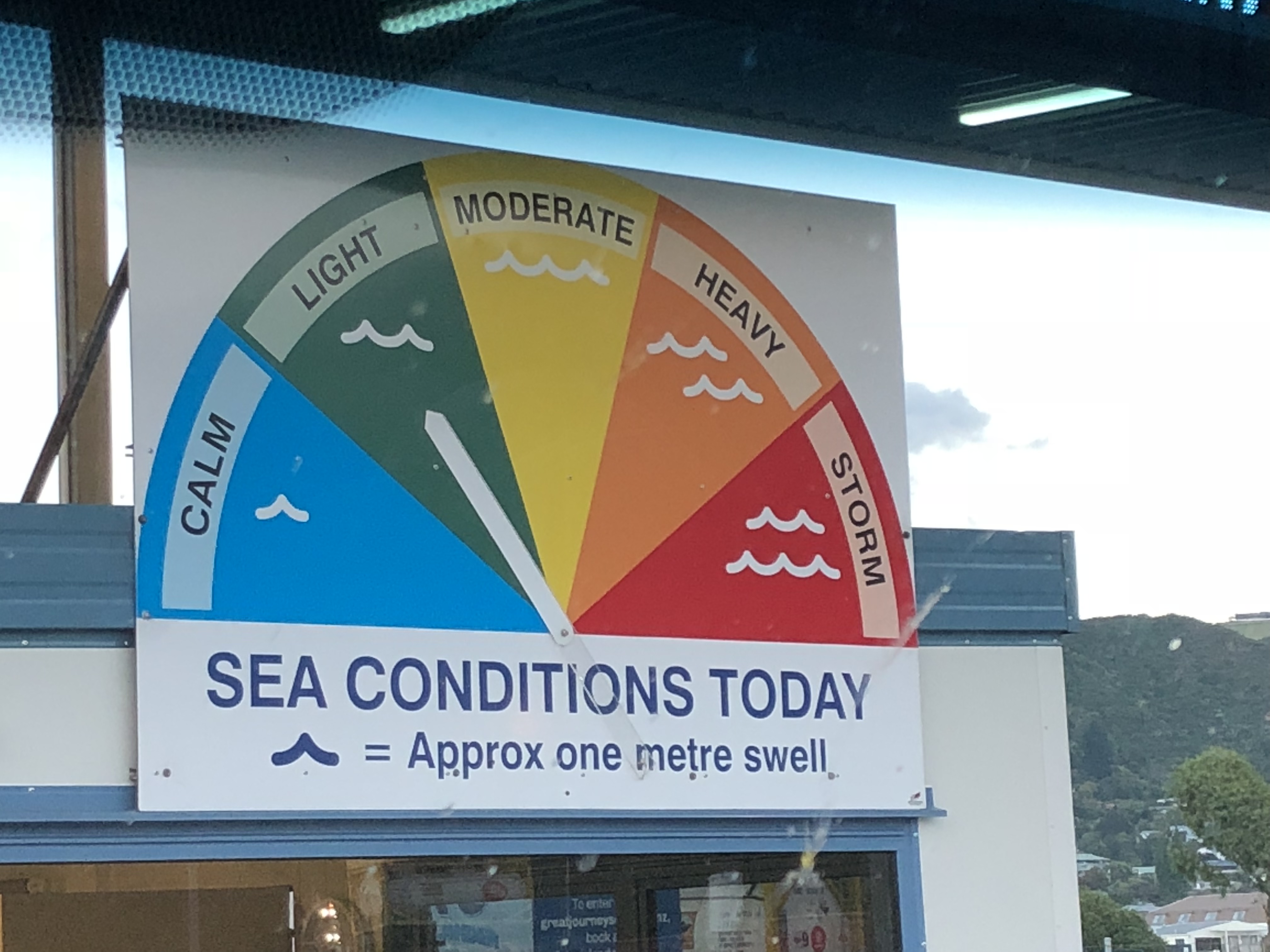 We had almost 4 hours on the ferry. Basti felt a bit seasick so I gave him a pill and I was just looking around a bit and writing new blog posts. But the internet was very slow so sometimes it took me what felt like ages to look up some words. But at the end of the ride I was ready and had written 3 new posts.
After we arrived we just headed to the supermarket to get something to eat for the next days. We stuffed everything in the fridge and just looked up what to to for the next 4 hours, because then our night tour in Zealandia would start. So we had some fun looking at the Hollywood sign of Wellington, the windy city.
Basti was pretty tired and we still had 2 hours left, so I decided to park the camper somewhere near the botanical garden and left him alone for a while to see at least something from Wellington. I just walked through the botanical garden and at the beginning of my tour, I saw these interesting tiles on the floor. They are nearly everywhere to find there. I came to a circle full of roses, mostly in one color and the one down there, I found was the most beautiful one.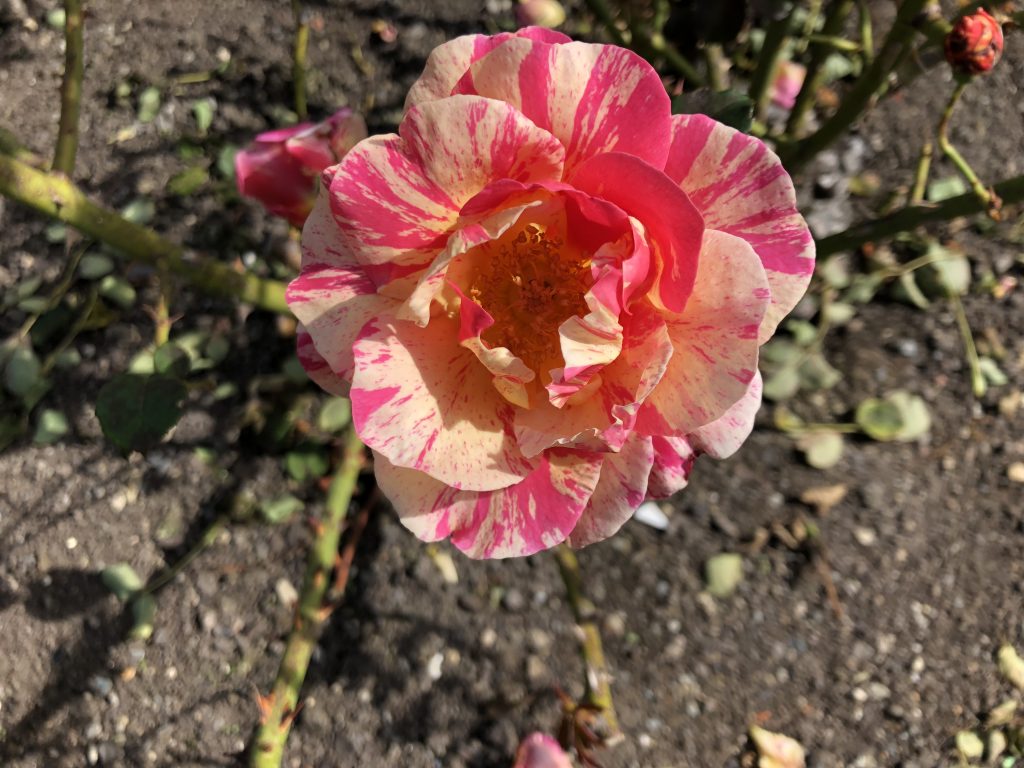 The garden goes from up the hill to the bottom, but as my time was limited I decided to take a little ride on the cable car and also have a look at the museum, where the story of it is told. Originally it was built to transfer locals from Kleburne to Karori. It first opened in February 1902. After a while more and more people used it to get from back up to the inner city or reversed. After a worker got hit by one cable car, which was operating without breaks back in 1974, changes were made and in 1978 a fully new system was installed.
Down there you can still see an old one, were it was even possible to sit on the side of it, beyond the cable car.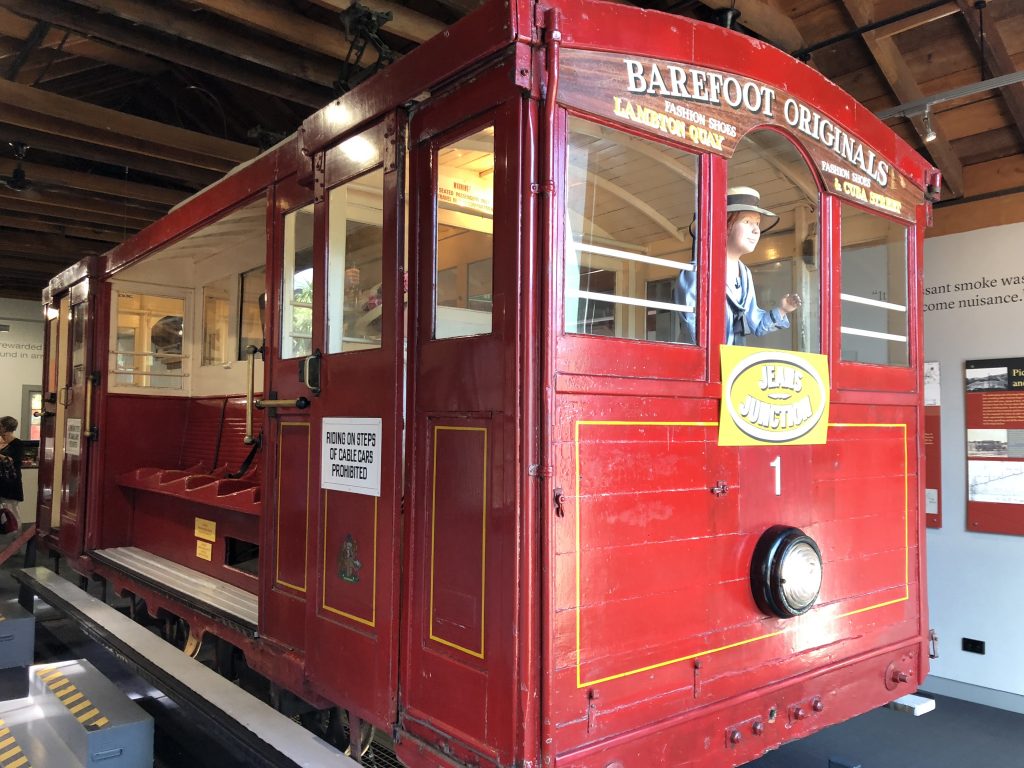 After my short ride downwards, I decided to go to the Antrim House, a beautiful old building in the city center and it stands in between huge houses. It even disappears a bit between them. There is also a lot of art in the city. As you can see, I just put 2 examples of them below this paragraph.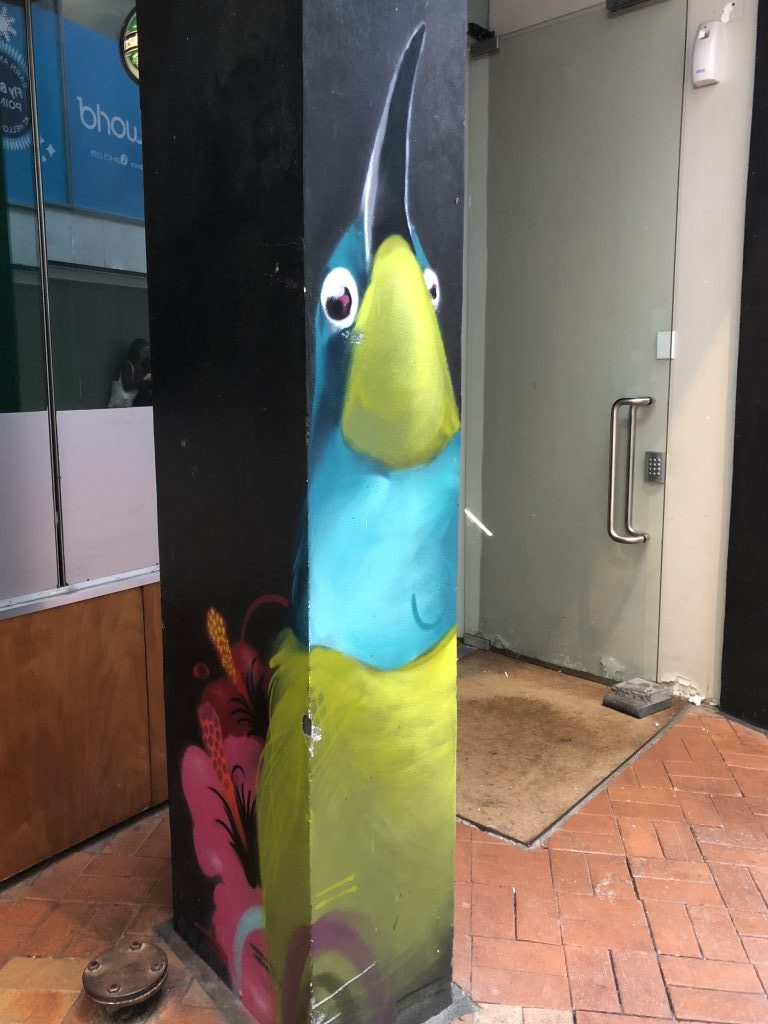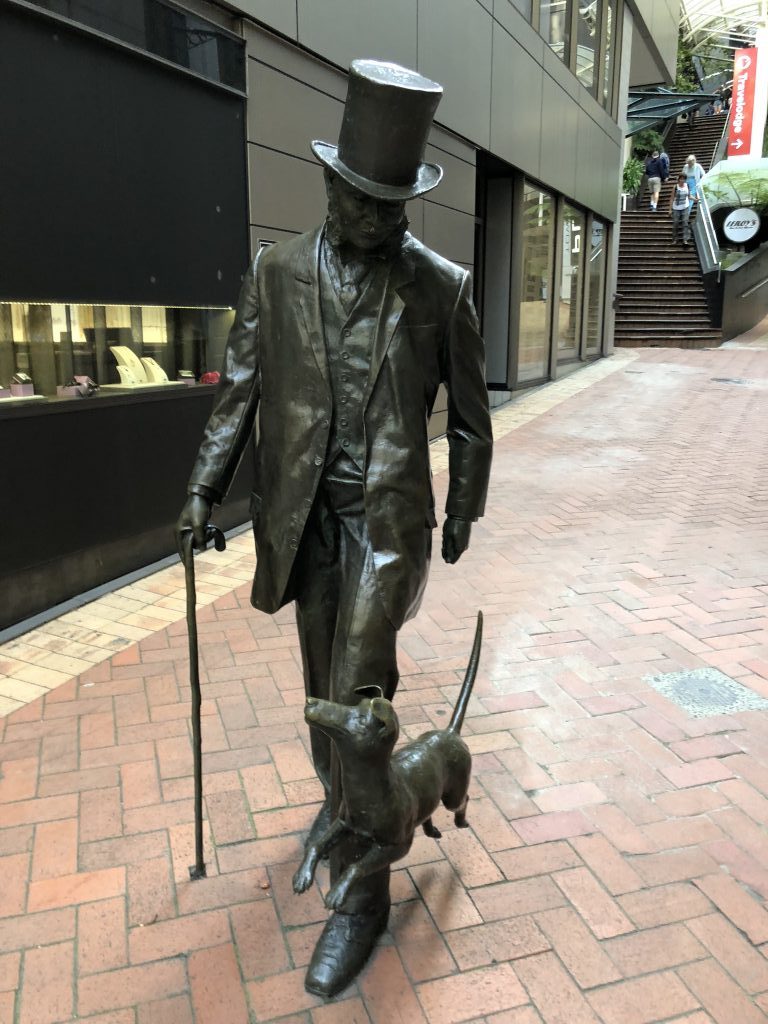 On my way to Antrim House I passed a beautiful church. It even looked beautiful from the inside. It's called St Mary of the Angels Catholic Church. The first church at this place was built back in 1843 and due to a rising audience it was enlarged for several times. Plans were made but then in 1874 a fire destroyed the first one and in 1922 the church as you can see it now was opened.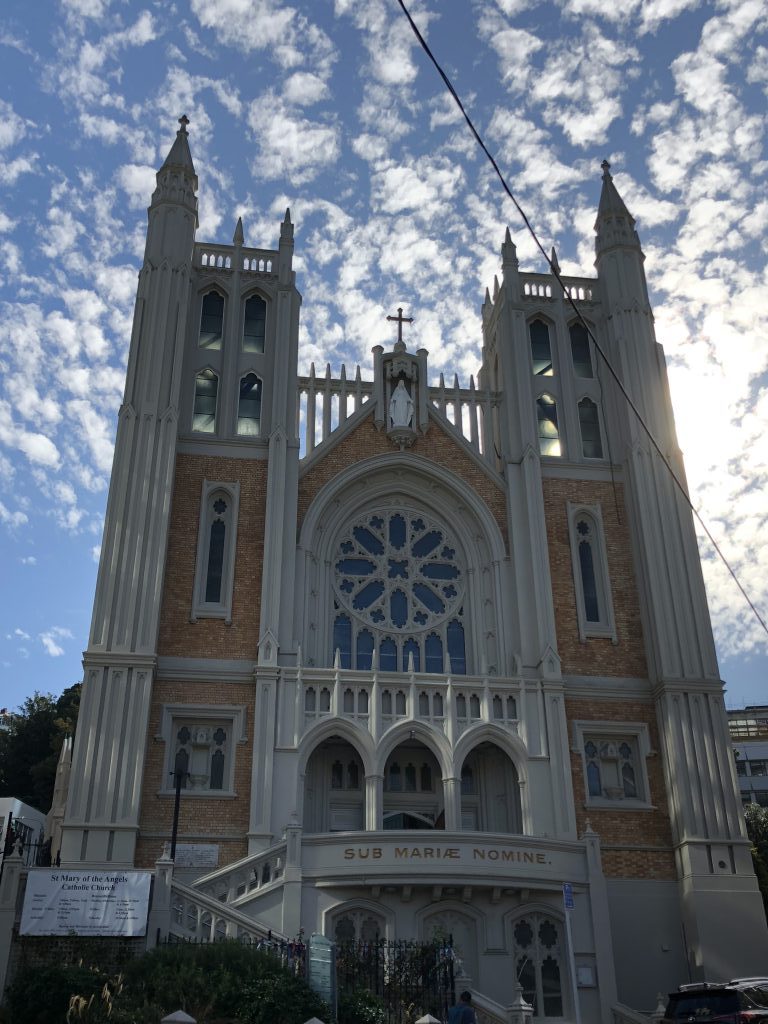 Back to Antrim House which fascinates me. As I arrived I went to the reception. There was a very nice lady, who gave me a short tour of the groundfloor of the house. There was red carpet on the floor, even on the stairs, the fireplaces were surrounded by marmor and the ceilings had beautiful stucco all over them. An amazing artwork itself! The house has gone through different phases since it was built in 1904 by Robert Hannah and his wife Hannah Hannah. They had 2 sons and after the parents died none of them could have afforded it, to keep the house. Up from 1931 it was used as a hotel and leased by different people until it was sold in 1938. In 1940 there was a fire in the staircase caused by a guest who believed the ashes from the fire place to be cold. It was not used as a hotel or anything else since the Gouvernement bought it in 1949 to use it as a hostel for young men, who worked in the Public Service. In 1977 it was closed down and should have been demolished. But at the end the Gouvernement decided to give it to Heritage New Zealand and they did renovate it in 1981 and use it as a Office ever since.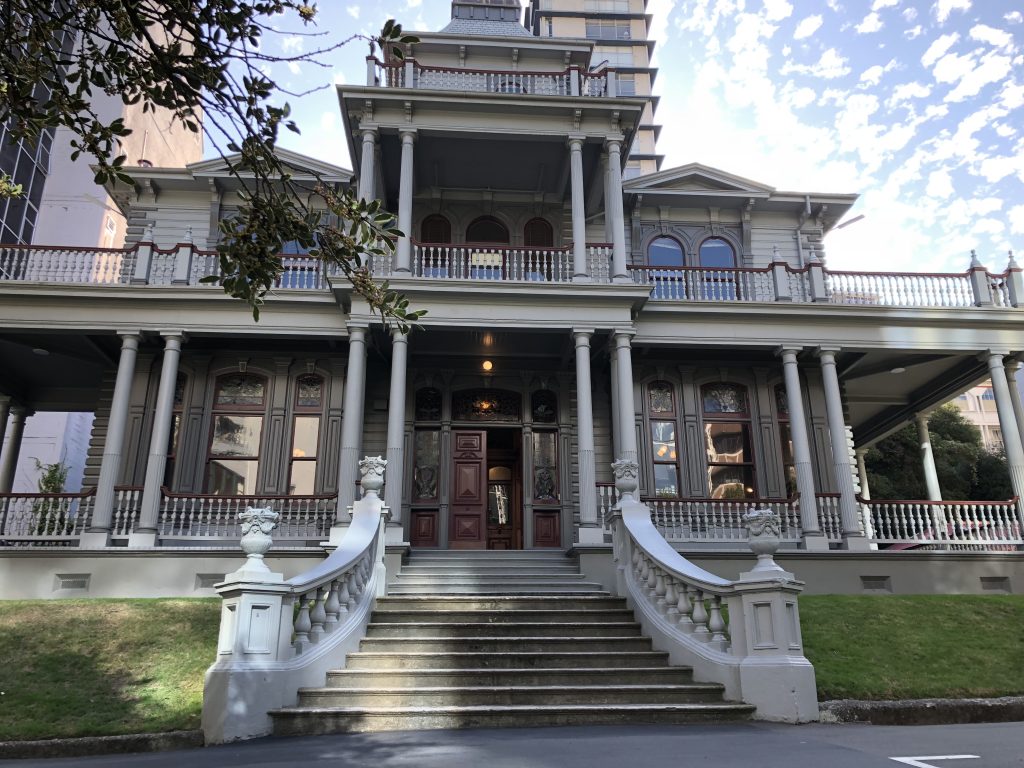 After my little tour I walked back to the cable car, took it to get back to the top on the botanical gardens and rushed back to a sleepy Basti and go get ready for our night tour in Zealandia.
What is Zealandia. First of all I think it's a great project to regain the original flora and fauna of New Zealand. Zealandia deceives itself as follows: "ZEALANDIA is the world's first fully-fenced urban ecosanctuary, with an extraordinary 500-year vision to restore a Wellington valley's forest and freshwater ecosystems as closely as possible to their pre-human state."
They built a fence around the whole area, about 225 hectare to protect the species from intruders like mouse, rabbits, cats, possums etc. It took them about 20 years to built it. But it works pretty well. We started our tour at 6:45 pm. We could join the earlier group because we arrived a bit earlier. My only wish was to see a Kiwi, a natural inhabitant of New Zealand. As as there are just a few left of them, it's almost impossible to see them in the wild.
We started with a check of our bags, that we don't take any living animals with us in the sanctuary. And after this we got to know lots and lots of stuff about different birds, frogs, which live in the this area, insects and about the Tuatara, which is not a gecko by the way. It was very interesting and they have shown us a lot! We wore little headphones, so that our tourguide could just talk about the sanctuary without us standing around her all the time. We also got red light torches. They don't disturb the animals like the normal ones do. At the end it did happen and we saw a Kiwi 😍 first and probably the last encounter with this bird in my life, but I'll see.
Another great thing about this project, they use rain water for their toilets. I know some other companies do the same but every step in this direction is a step further to save our environment.