Happy to leave our dive gear at the hotel, we got to the bus to our Halong Bay trip. It took us one more hour to pick everybody up before we hit the highway. The space for the legs was unbelievable small and even I with my size (1.6m) had problems. I was grateful for the little break after 2h driving. After another 1.5h we arrived at the harbour. It seemed a little unorganized there. We were a bit late so the other group, which wanted to go back to Ha Noi already waited.
We also had to wait to go on a little boat, which took us to the big one, where we should sleep at night. It was not that easy to step on and off the boats with the big backpacks. But we managed it without falling into the water. Getting on the big boat it was already time for lunch. There was plenty of food for everybody. We traveled with 2 girls from Australia, 2 guys from France, another guy who hardly said any word and a Chinese family with a little child. Following lunch we could relax a bit on deck and have a look at the bay. Our cabin was really nice. We had enough space and it was clean. We were told, that there are people, who clean the water everyday and take the plastic out of it. But according to the look of some of it, I couldn't really believe it. There was still to many swimming around. In the bay there were just so many boats, that we got to know pretty fast, that this will be a mass tourism thing, yeah…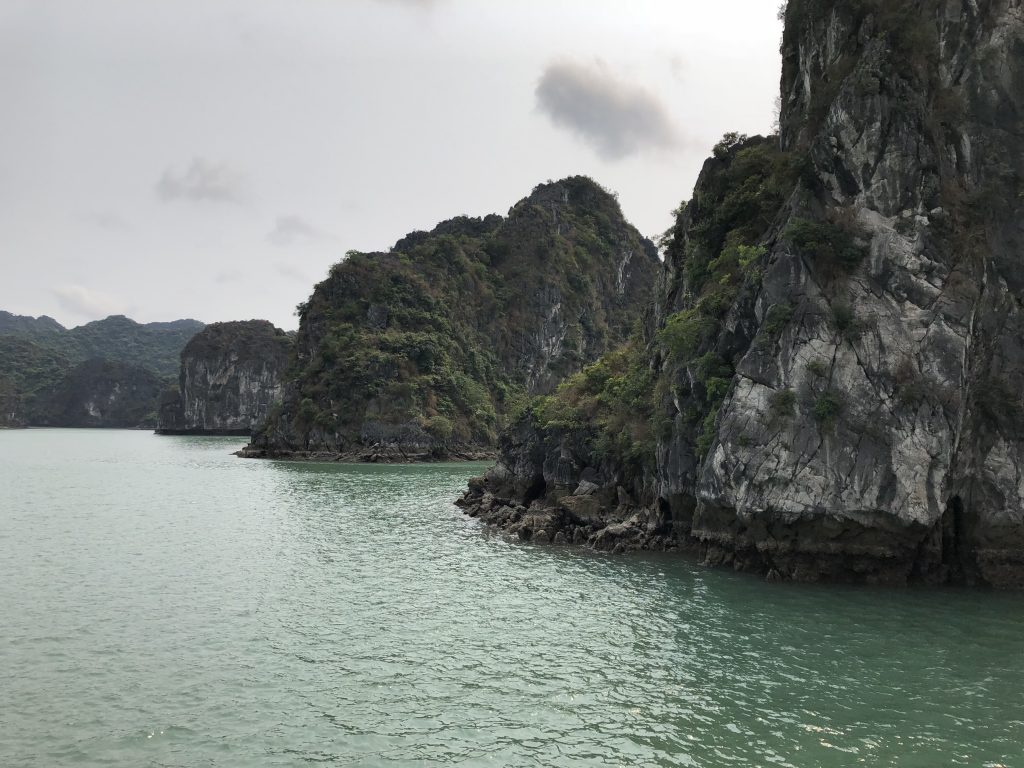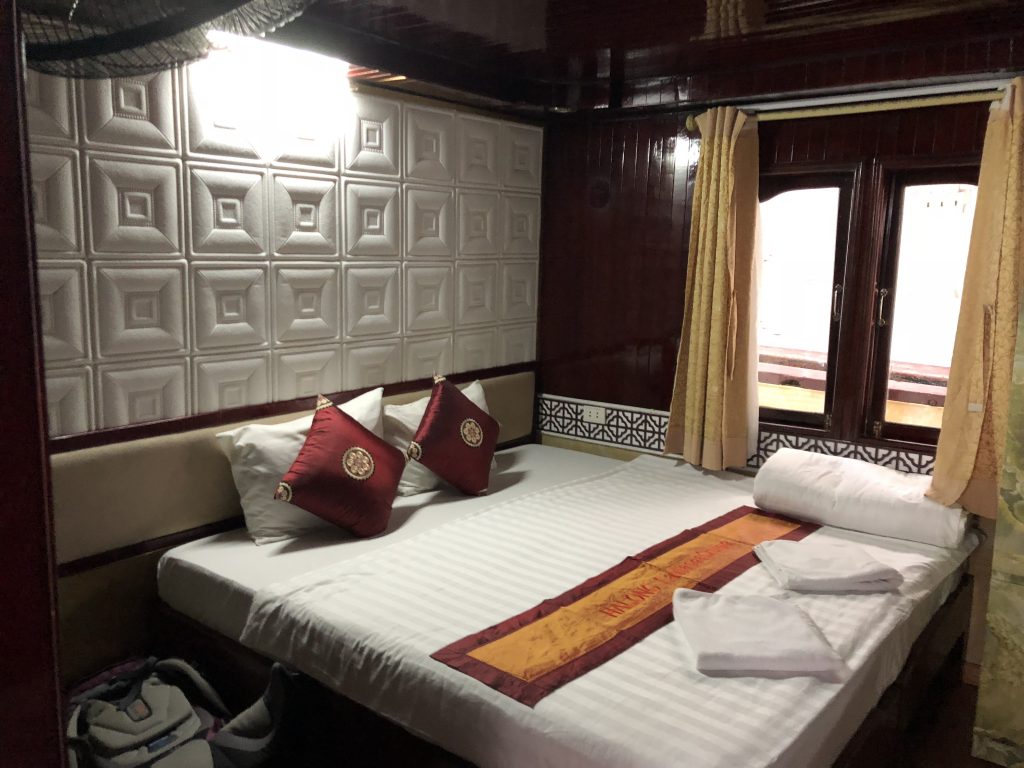 The first thing on the plan was a visit of a cave. As we arrived there were tons of people waiting there to get through it with its 3 halls. It took us 1.5h to see all of them because there were so many tourists. Please don't ask me what the cave was called, it was just not rememberable.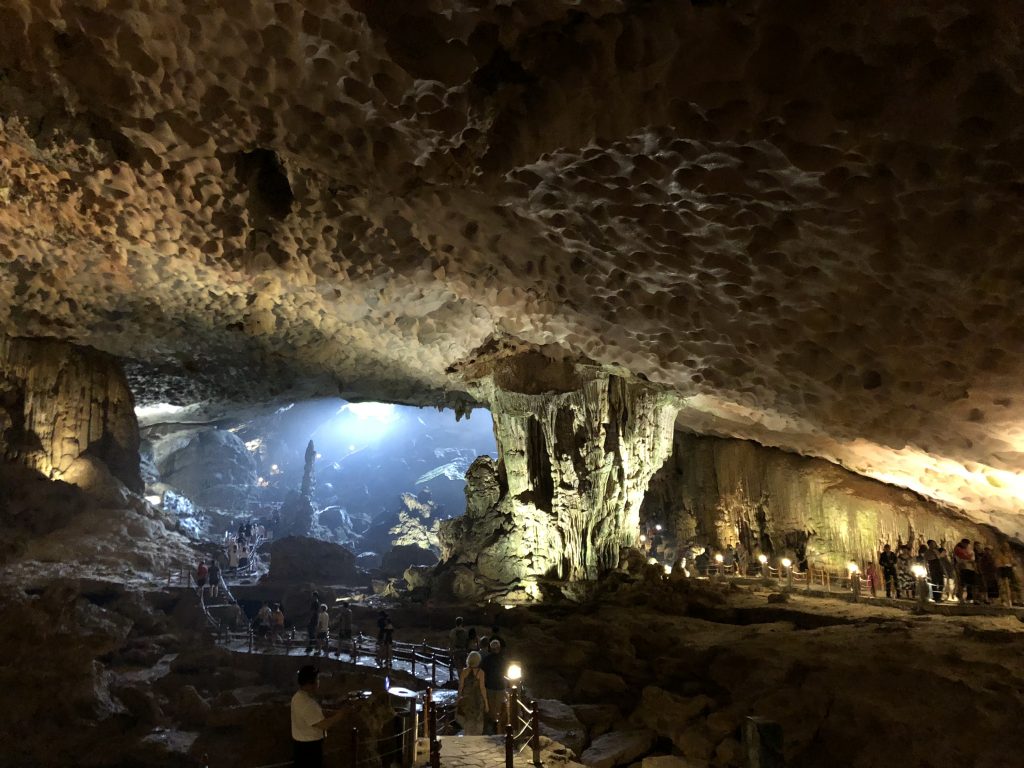 After this we went back to the big boat by a speedboat. 30 minutes relaxation in the plan before going kayaking. When you read the article about our trip in New Zealand, you maybe remember that this is not one of our supreme disciplines. This time the kayak was different, we couldn't steer it in one direction with a paddle in the back. We had to use our big paddles. So it was not going to be any easier and we definitely didn't want to take a swim there. The water didn't look inviting. We got to a little cave but didn't want to leave the kajak, because then we would have gotten wet, urgh. So we changed the direction and drove around the little bay. We were the first couple back on the dock, but we had just 45 min in total and no phone with us, so it didn't get wet. After the last couple came back, which looked pretty funny because they had even more problems with steering than we did, we got back on the little boat and drove to the big one.
Dinner was ok as was breakfast. We slept pretty good, the sea wasn't rough so we didn't swing back and forth, lucky us!
On the plan for the second day was Ti Top Island, which was named after the astronaut Ghermann Ti Top. He was a hero of the Soviet Union and visited the island in 1962. Back then he was accompanied by Ho Chi Minh. So enough about history. We had to climb up a few steps, which took us about 10 minutes. Luckily we were one of the first groups that day, so we could enjoy the view a bit. And of course we looked for the best spot to take a photo without any boats or other people 😉it should look peaceful. On the way back it was much more crowded and we had some difficulties with the people crossing by because the steps were so tiny.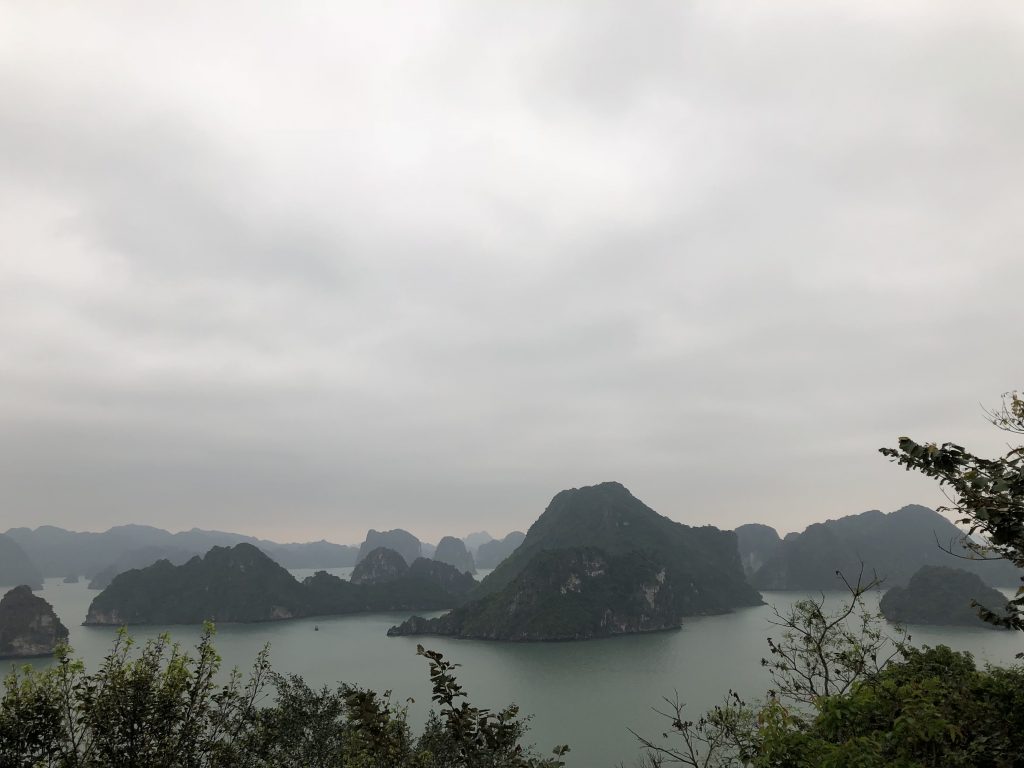 Returning back to the boat the captain started the way back to the harbour. We had to leave the cabin at 10, so that these can get cleaned for the next guests. So we relaxed a bit more on deck before lunch.
Arriving at the harbour, the bus was already there so we could get back. This time we didn't take the highway, so it took us nearly 5 hours to arrive in Ha Noi. 🙈 We stopped here and there to collect some family members of the bus driver or the guide and even made a detour for them… The break this time was meant to be at a carver shop, where we could buy statues for the garden. Really guys? I would have expected much more not just something like this. Maybe jewellery would bring more money 😂
After the bus ride we asked them to just drop us off. So we went back to the hotel, waiting for the pick up to Ninh Binh. We organized a taxi company the day before. I received a confirmation in Vietnamese and showed us to the guide. He said everything will be fine, but he didn't really look at it because we had to confirm it twice. So we stood there, asking the hotel staff if they could call the company to confirm it for us. We learned it so far that most of Vietnamese people don't really speak English that's why we asked them to call. Although we arranged a pick up at the hotel, we had to walk more than 2.5 km to get to the real pick up point. We were done for that day. The driver showed up a few minutes to late, but that's normal and we were happy he showed up at all. It took us 1.5 h to get to Ninh Binh. Happy to finally arrive there we entered the hotel and were pretty impressed. The room was huge and so was the bed. We were not hungry, just released we made it there and could relax before going to bed.
To sum it up: Halong Bay is not as beautiful as it could be with so many tourist visiting and without restrictions of throwing plastic and leftovers in the water. We wouldn't recommend this trip to anyone.
You want to know more about Ninh Binh and why it was so much more beautiful than Halong Bay? Next post will be released soon!