We searched for a freedom camping space and found one next to highway 6. It wasn't the best idea because we stood crooked with our camper all night and didn't really get a lot of sleep, but we were to stingy to pay for a campsite this time. Basti dreamt that we would tip over with the camper. 😂We woke up at 6:30 as the alarm went on and made ourselves ready for a long walk that day. We had decided to do the Roberts Point Walk, which is 12.3 km long and normally takes 5.2 h with return. At the beginning we were lucky with the weather. The sun was shining and it went quite well to walk up to the Franz-Josef Glacier. We at least wanted to see one of the two glaciers in the west. The road to Fox Glacier was closed due to erosions.
So it started pretty easy with a short little walk to Peters Pool. A cute little lake with a duck and it looked like the Mirror Lakes, near Milford Sound, because the mountains were reflected in the pool.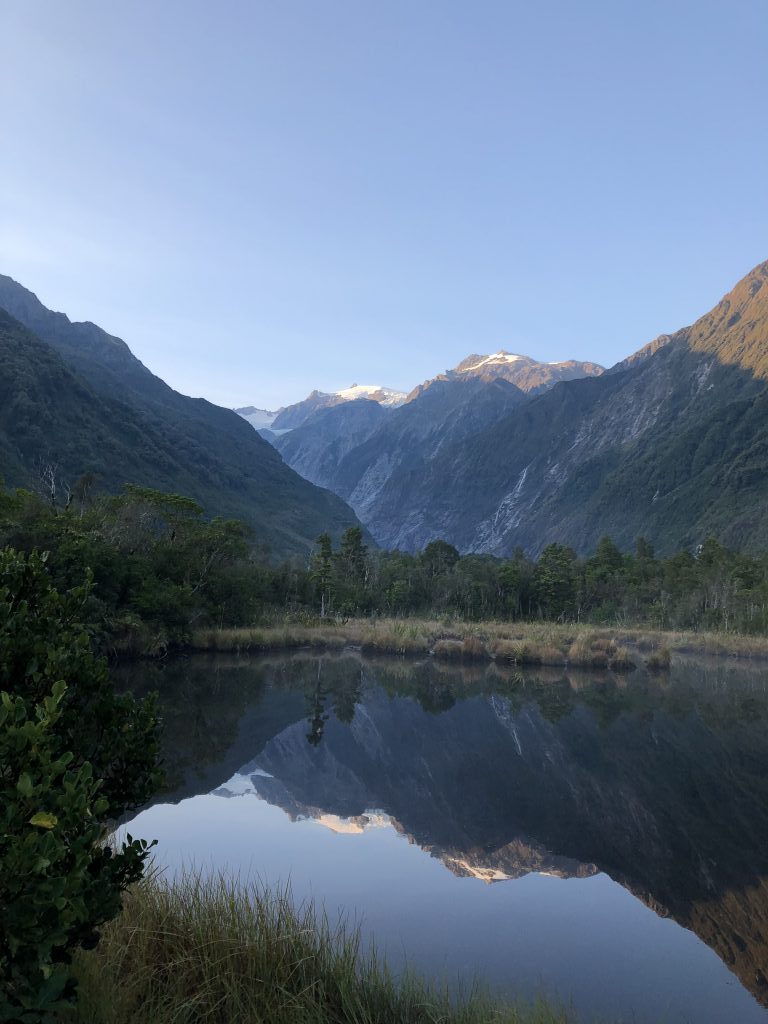 Back in 1954 you could easily see the Glacier from that point and it was also reflected by the pool. Not there are just the outlets visible of it and a river of glacier water is running down to the valley. But of course, there is no climate change …🙁
After the pool we went on walking. We had to cross several bridges and even stairs were installed up there somewhere on the track. As I'm afraid of heights, Basti always had to promise me not to jump or I even asked him to wait on the one side till I crossed the bridges. It was pretty shaky, even as I've been the only one on it.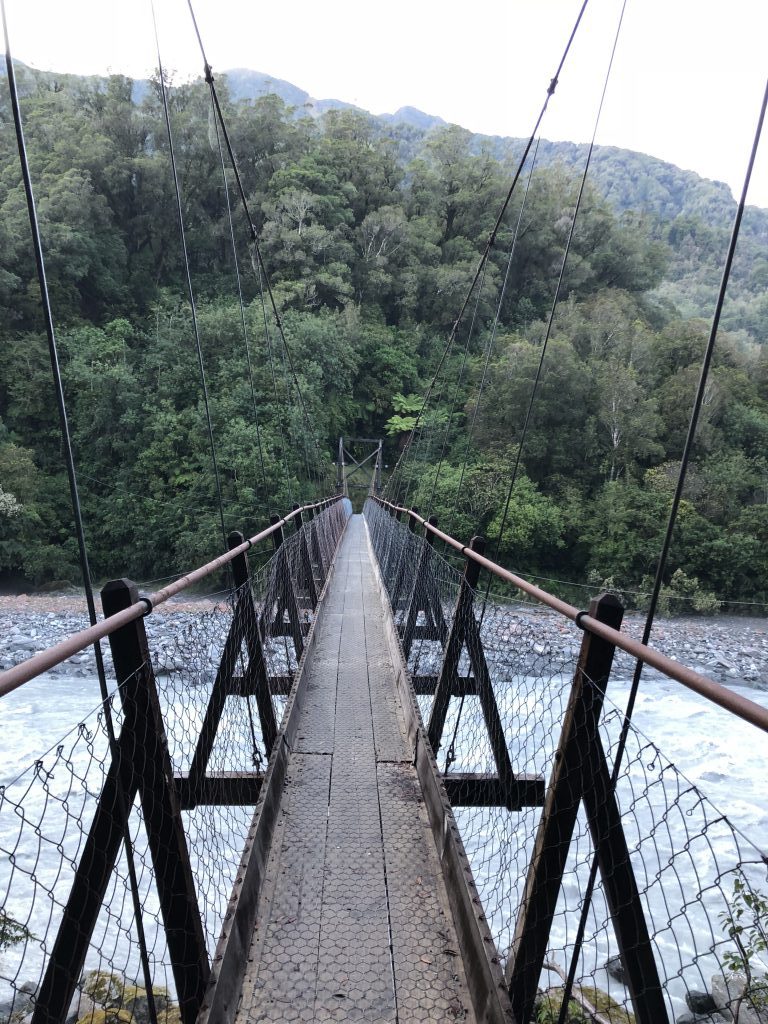 On our way up, there was a little bench and we made a short break to relax and enjoy the view and quiet. Just a few birds, I think that were keas, were singing. There was even a little shelter to rest. As we walked already 2/3 up, it began to rain and the rocks got really slippery. The weather forecast said that it's just a 10% chance of getting rain – perfect… So now that wasn't fun anymore and we hopped to reach the top soon. And suddenly there it was – the outlook. You don't expect it to come because you go around a corner and then there are the stairs to the glacier and here it is. It looked stunning. That's the nearest point you can reach of it, when you walk. It's possible to do a helicopter flight, but this costs about 300$ pp and we didn't want to pay that much.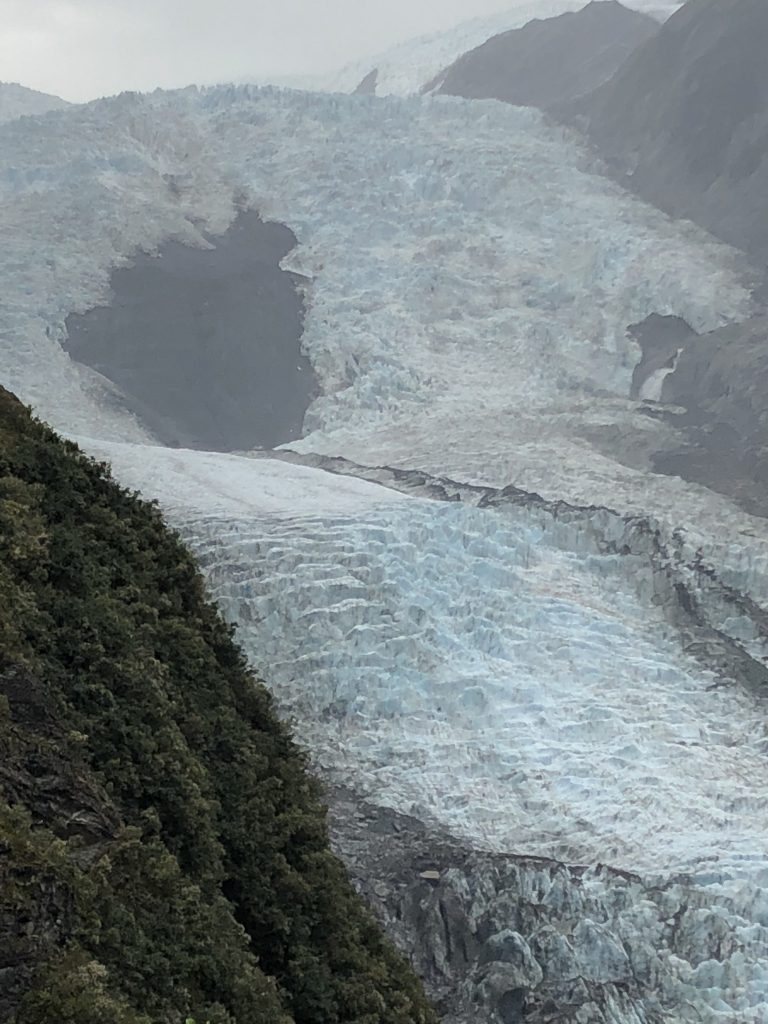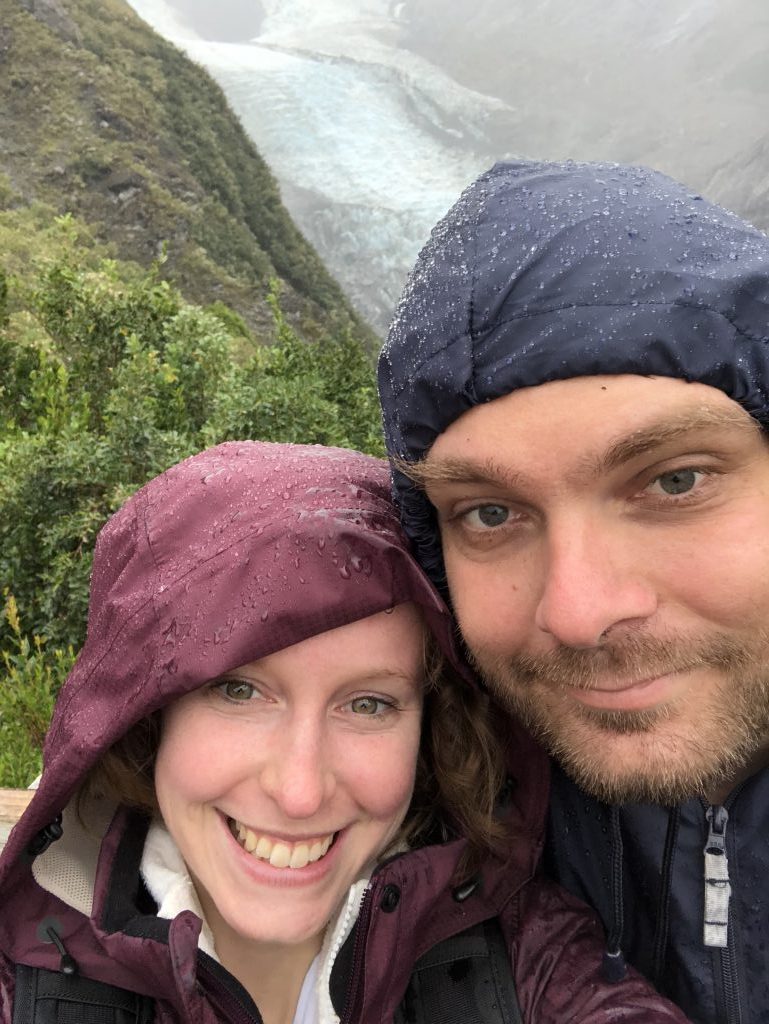 We were happy we made it up there but the rain just stopped for a few minutes and after a little break we just wanted to come back safely. Going back, new creeks had built up, where there haven't been any before and the waterfalls where even lager. We also met some hikers, which just turned around and walked back with us. On the way back we got soaking wet, water was standing in both of our shoes and it took us 7 hours to hike up and back down.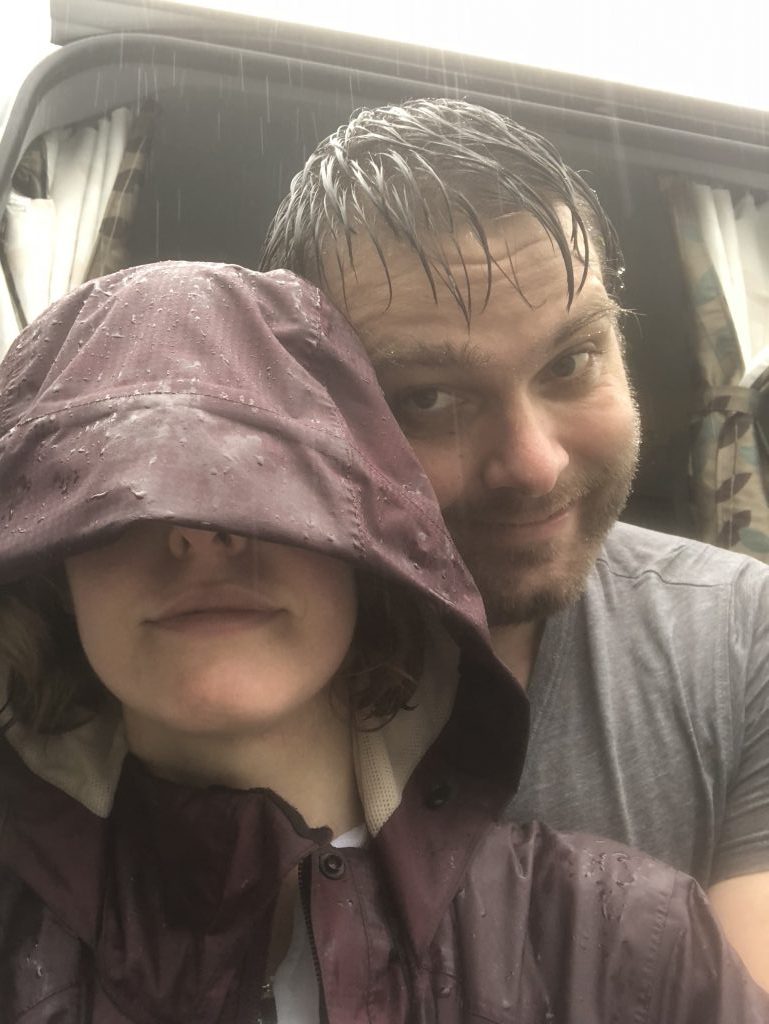 Happy that we got back safely, we decided to search a free campsite near Hokitika, cook some nudels with tomato sauce and a little salad and just take a second look on the route we have planned for the next day. We felt asleep pretty quickly that evening.
My conclusion of this day: hiking is just not my favorite sport and never will be, for sure. Next time I will choose a easier and defiantly shorter route. And even if there will be a 5% change of rain on this day, I won't go!
We passed by little waterfalls and crossed a river. So waterproof shoes are defiantly demanded. Take enough water and food with you and don't forget the rain jacket. The weather can change pretty quickly, as we had to discover it ourselves.