So we stood up pretty early because we had to leave the campsite between 7 to 7:30. We already explained the campers, who have parked their van right in from of us, we have to leave on time, so they have to move in the morning. And we were happy as we recognized they did without a reminder or waking them up. So it was easy for us to get out of the parking space and we drove towards the kayak company within the Abel Tasman National Park. As we arrived we started with some breakfast because we still had some time. Basti went out of the camper and got immediately bitten by some sandflies and was annoyed already before the day had even begun. We paid for the day and I saw some chemical spray for or against mosquitos and in specific sandflies, which bothered Basti pretty much and his feet already looked very bad, with red dots all over them. So we bought it and it immediately helped.
After the first success of the day we were sent to one table where a nice girl was already waiting for our arrival. She showed us some security advices and we had to wait for the others to come. She told us where to go, what to be aware of and then we got the briefing how to handle the kayak. As we have never used one before, it was mostly important for us to know, what to do, it we roll over with our heads stuck in the water. But I can tell you so far, that this didn't happen. Sometimes you just need a bit of luck 😉
So we got everything fixed, learned how to step into the kayak and fix that kind of skirt we had to wear to stop water from getting into the kayak and headed up to the beach. After getting in the kayak we made some paddling excise and got started. I had so sit in the back because Basti didn't fit in there with his long legs. So I had to direct the kayak to the left or to the right and that was very tricky because I have some kind of disability with not moving the feet at the same time with the arms. Somehow it always went wrong and we did a zigzag course all the time. It must have looked quite funny if anybody tracked out route. So we started paddling further and further away from shore. Our first goal was Adele Island. Which was nice and unoccupied. So we got there and made a first break.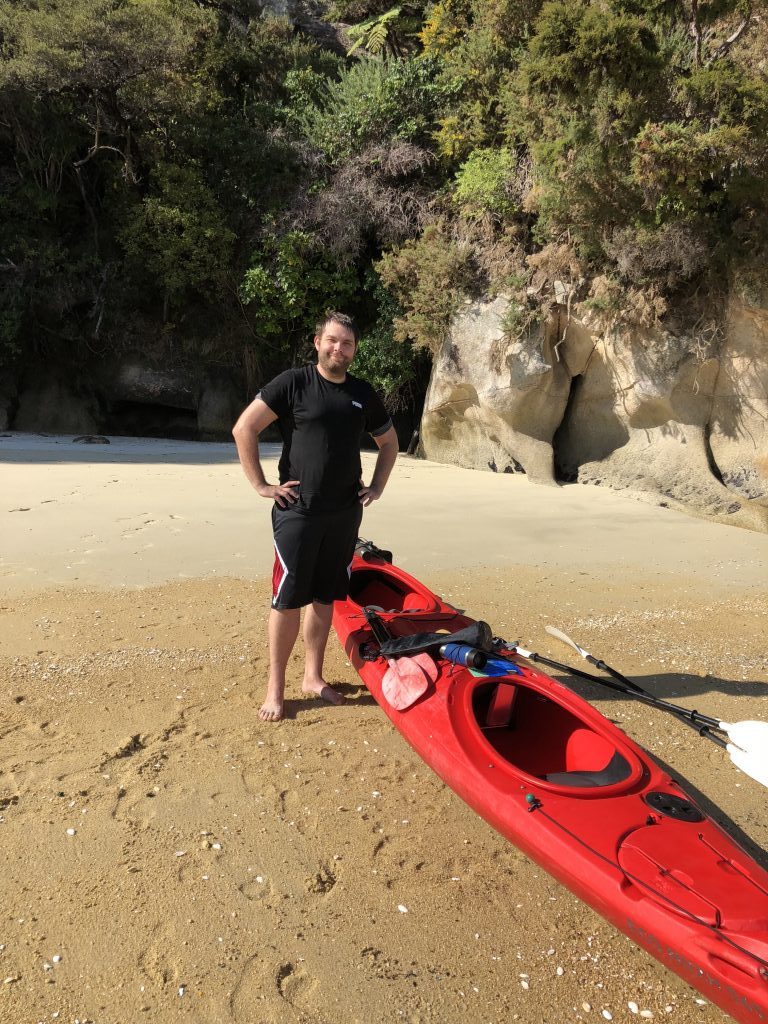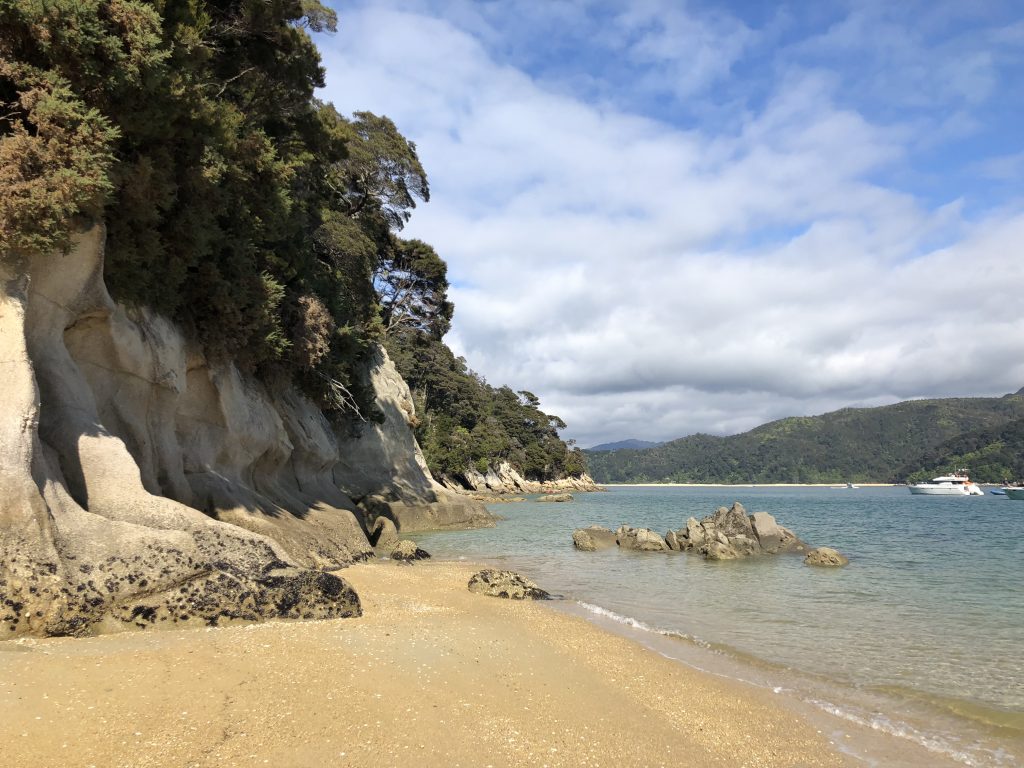 After we started again, we just had to paddle around the corner to see some baby sea lions playing in the water. We looked at them for a while and then decided to turn around. It didn't really get better with my steering skills but I tried to do my best. So we found out that the mixture of us both paddling didn't fit and it was much easier for me to guide us in the right direction, when we both do it separately. So Basti started and I just concentrated on the steering and after this it was my turn. This way we were much more slow, but we didn't need that much power. At lunch time we made another break, but this time a little longer. As I arrived at the beach I wanted to get out of the kayak and got hit by a wave. Perfect to I used the break to dry my clothes.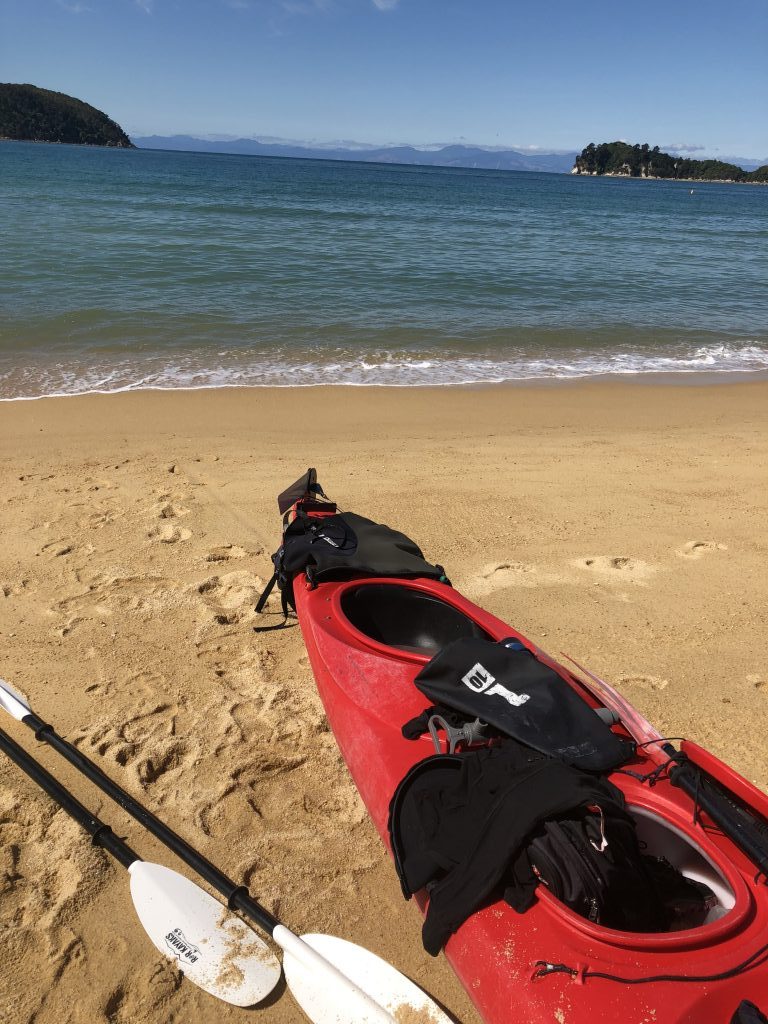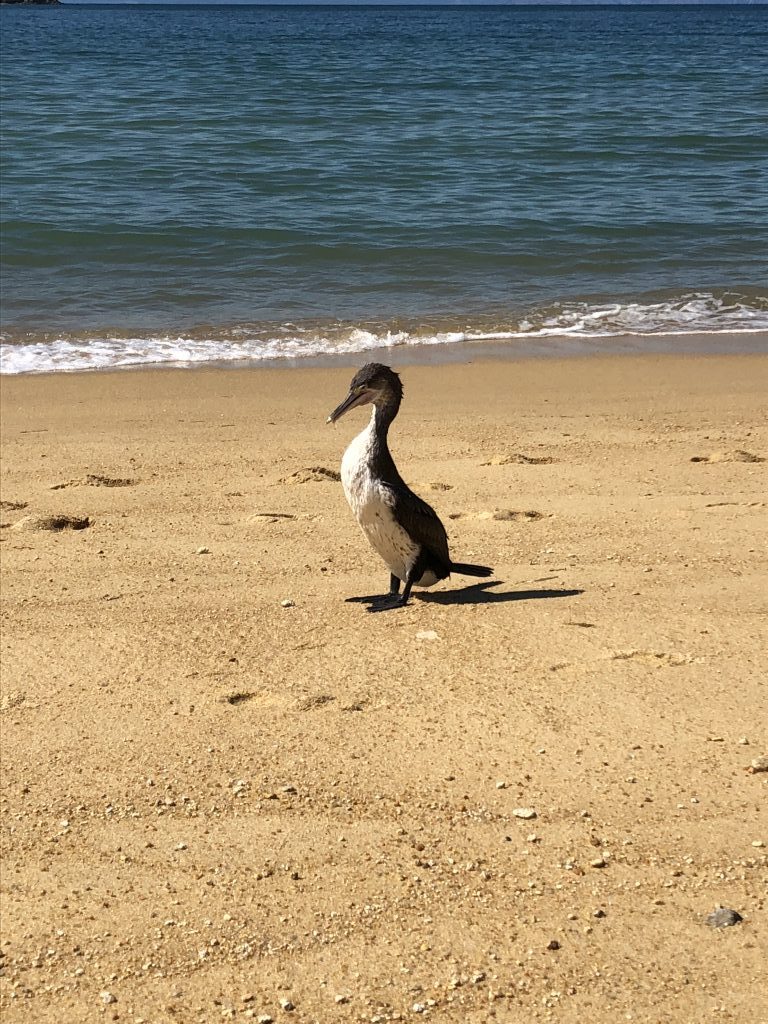 After a 1,5 h break we headed back to the starting point, to get out of the water. As we tried to get in, a wave hit the kayak and Basti just felt down into the water and yeah everything was wet again and I almost felt over the kayak. That was a pretty rough start for our last part of this adventure. As we reached the beach, where we got picked up we were happy but also a bit exhausted and with a bit of a sunburn (Basti almost all over & me just the face and the back of my hands).
We got back to the kayak drop of, got a cold shower to wash away all that salt water, put on some fresh clothes and looked for some ice cream. There were just some very little cups for 5,50$ so we decided not to take them and just drove off. On our way we recognized that we didn't switch off the gas, so we had to stop and like a surprise, Basti just halted in front of a cafe where we could get some ice cream… that's typical for him! But it was delicious. You could choose from different berries. I took raspberries and Basti strawberry, the ice cream was made right in front of our us, with a block of soft ice mixed with the berries. Fresh as it could be. Very tasty!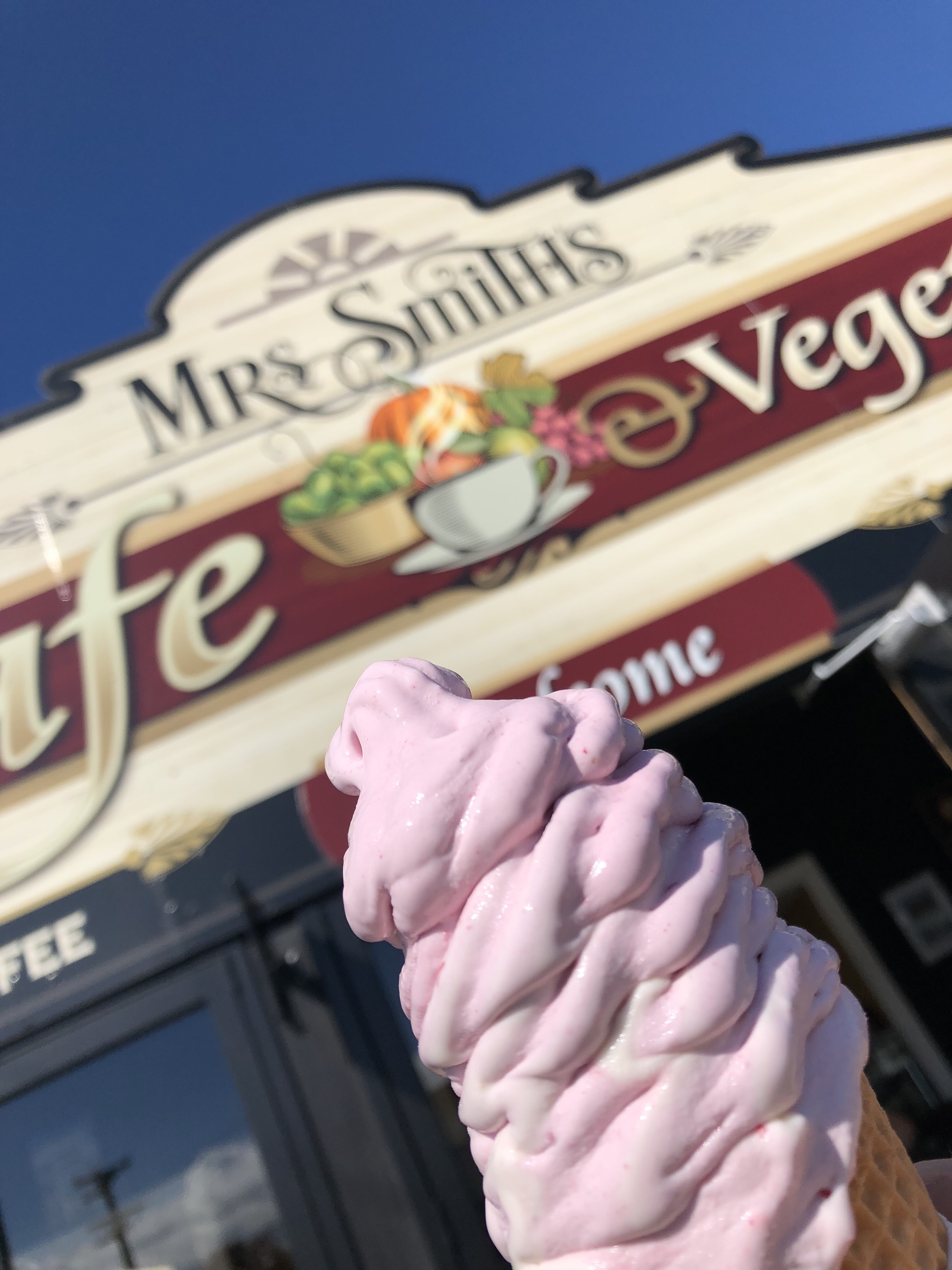 We looked for a campsite and found a very pretty one right in a park, the Isel Park. There are just 3 spaces available and we luckily got the last one. It was just 5 pm and we decided to make some laundry as we saw a self service for laundry. The washing machines and dryer worked just with a little key, where money was loaded on before. On an information it said, that we get one at the next door. But unfortunately they ran out of keys. So I just walked back to Basti and told him so. And then a very nice man, next to Basti showed me, that he had 2 of them and just wanted to check, how much is left on them. So after this, he just gave us one, without taking any money from us, and there were still 13$ left on it. So that was just a little present from him. I wanted to give him his key back and as he left just told him so, but he just said, that we will definitely still need it and left. We were just speechless and thanked him again. So after 1.15 h the laundry was washed and dried and we could go back to the camper and grill.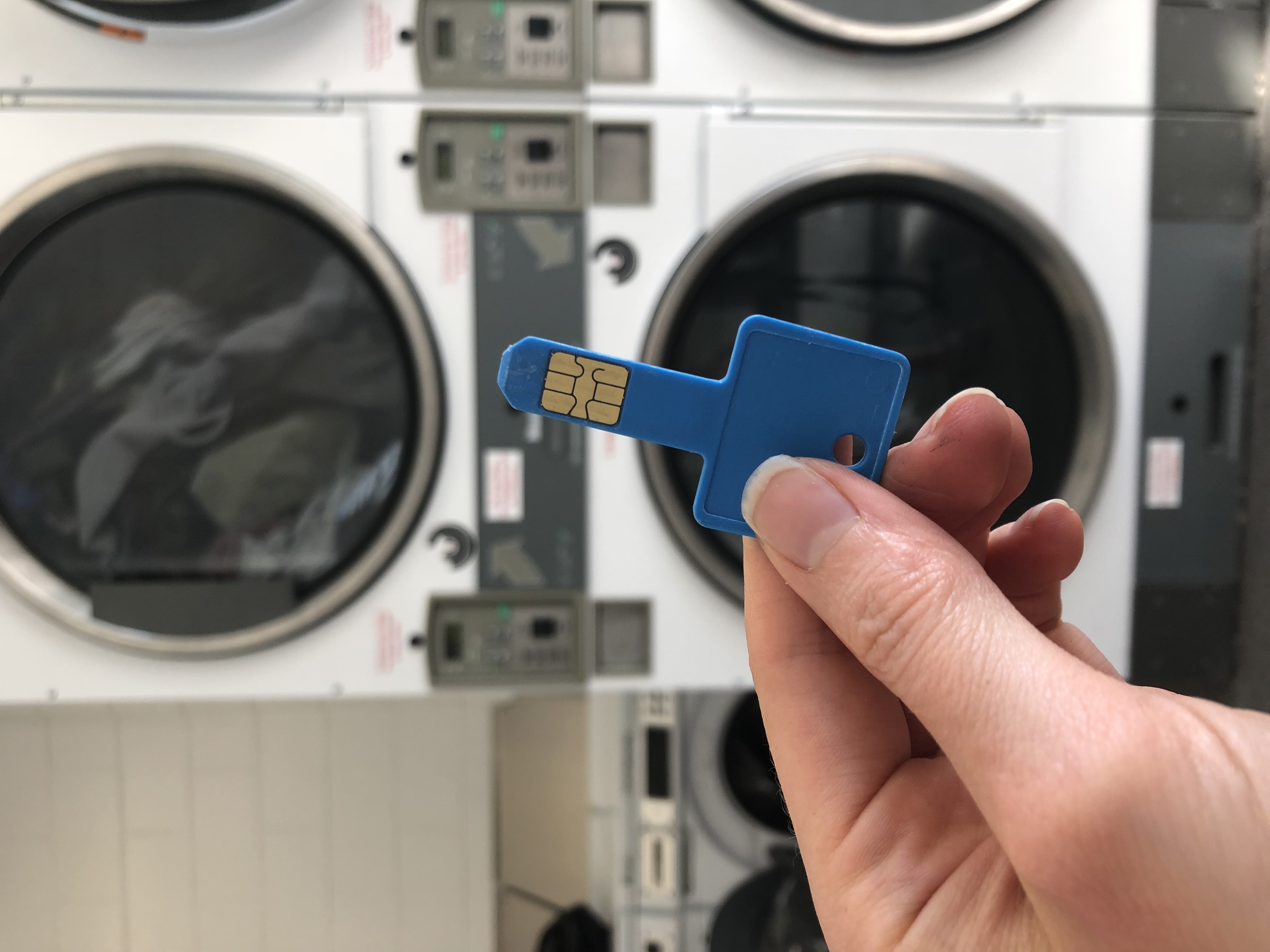 After dinner we had a look on our blog and recognized with a little shock, that lots of pictures have just turned around the wrong way… so we had to fix this.
At the next day after breakfast we started again to get to see some parts of Marlborough Sound. But the excitement didn't last long because there were no nice lookouts or bays we could stay for a little while. So we decided to head back to a nice small freedom campsite for just 6 campers. It was called Double Bay. We were the second camper there and just wanted to relax a bit. There were a few benches and I just took a little nap, while Basti read his book. So did I as I woke up. We listened to the noice of the water and just enjoyed the peace there at this beautiful bay. For dinner we switched on the grill again and got some burgers, corn and garlic bread. We caught sight of the stars at night.

Keep yourself updated and get to know how we our ferry ride went and if we like the first impressions of the north island.