We started our journey on Sunday with a short alarm at the airport caused by a little girl. After 5 min of the siren it went silence and we could go on board.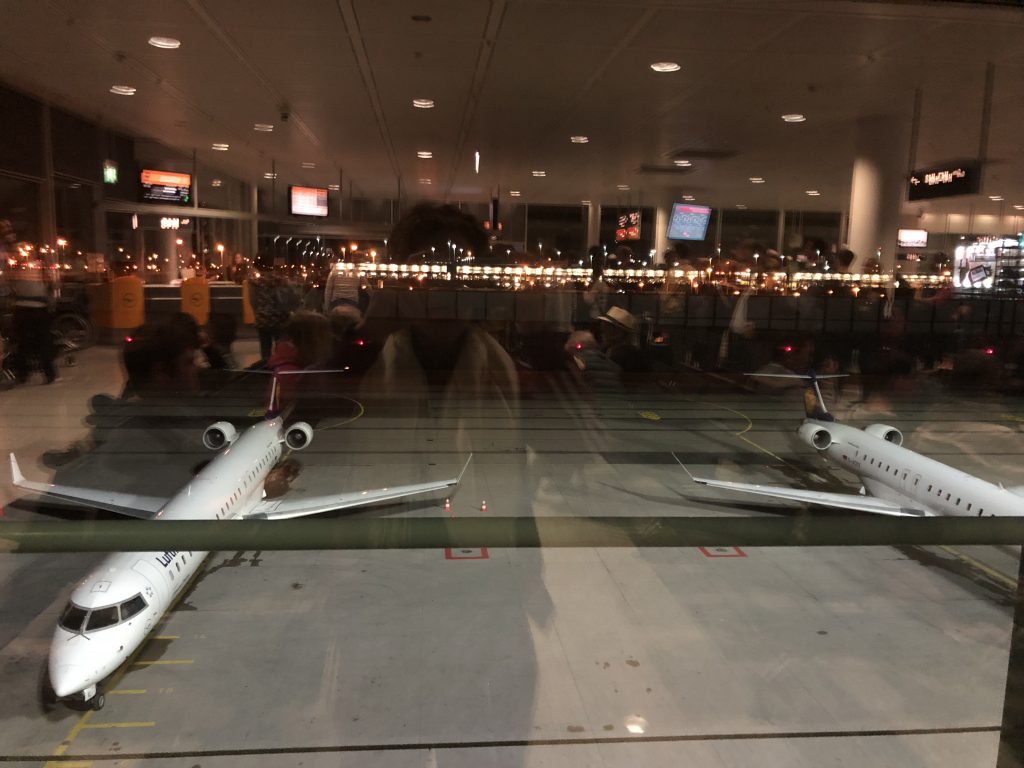 The flight took 12h and we didn't really get a lot of sleep because the seats can never be comfortable enough 😉
I just love Singapore. It's a really beautiful city and has so many green spots to offer. And if you asked the people anything, everybody is friendly and willing to help you immediately! I've been here 2 years ago, and arrived on the exact same date. Sometimes there are just coincidences, I would never have thought of.
At our arrival in Singapur it was really hot. We had about 33 degrees and just wanted to get to our hotel and get a shower. We had some diner and got to bed in the smallest hotel room I've ever been.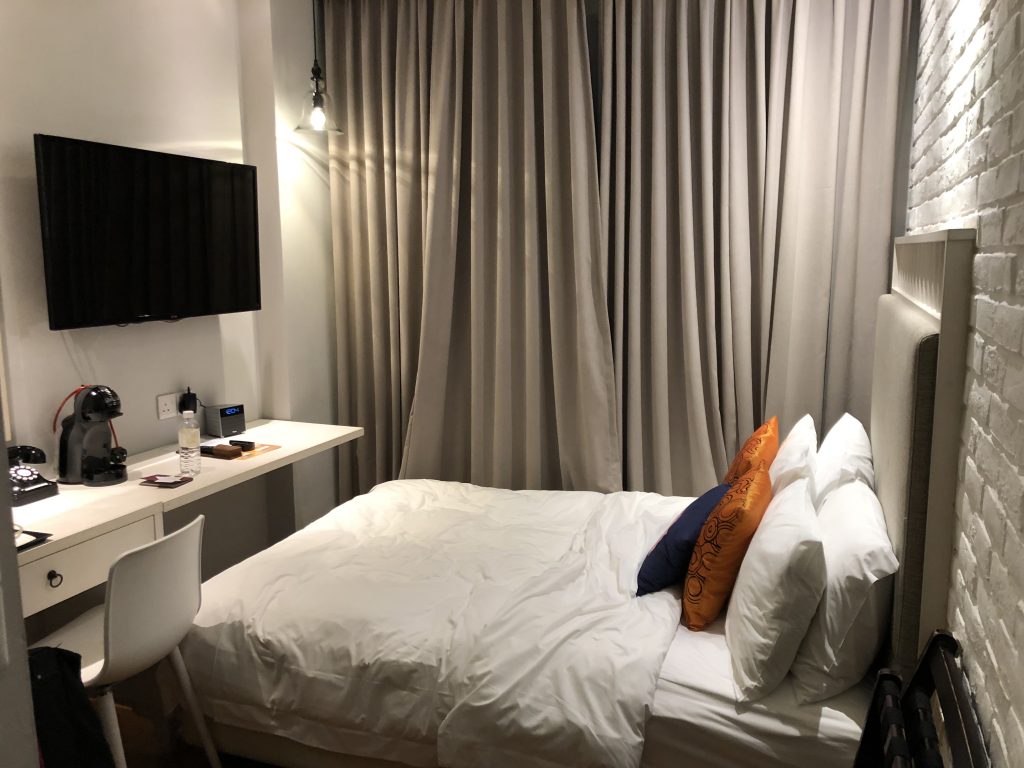 On the next day we decided to start with a little bit of history and went to the Former Ford Factory to get to know something about the times of Singapore during WW II. Basti is pretty interested in history, I'm not that much, but I wanted him to be happy 😉 There is a permanent exhibition. We could have a look at the events and memories of the British surrender, the Japanese Occupation of Singapore and the legacies of the war. It's also the place where the British forces surrendered unconditionally to the Imperial Japanese Army on 15th February 1942.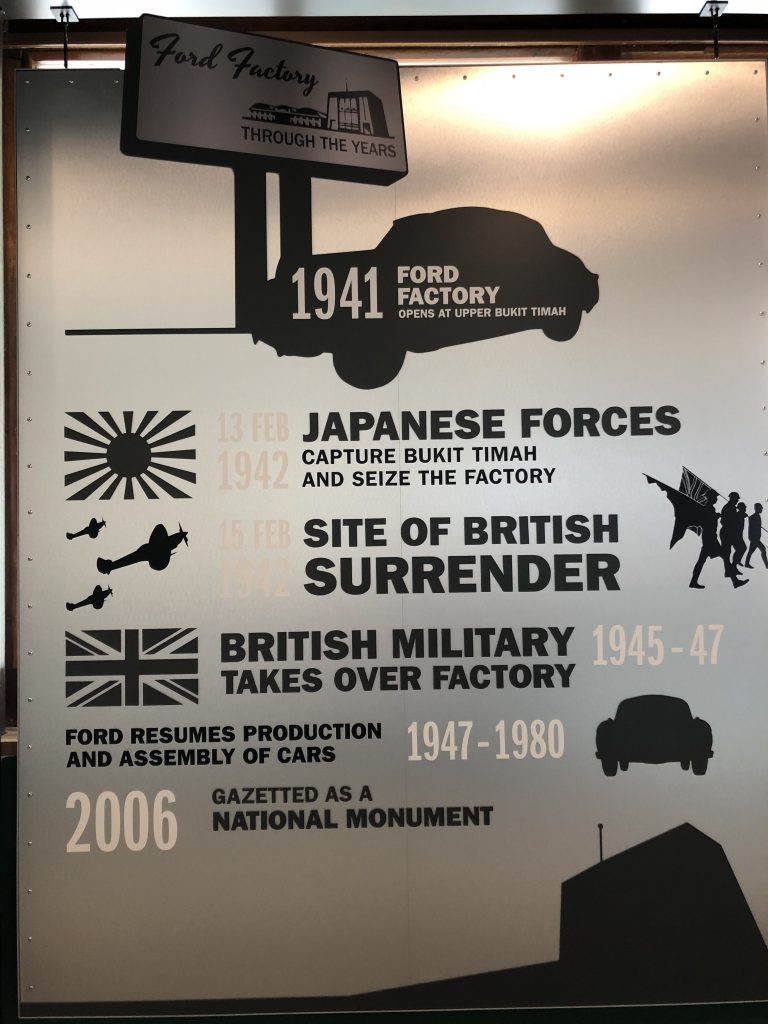 There are different parts of the exhibition. In the garden you get to see some fruits and vegetables which grow in Singapore during the Japanese Occupation.
The second part highlights the fall of Singapore. As a first hint of imminent war, the British registered all non-military residents of Singapore. They had to carry their ID with them all the time, so that potential spies could be identified.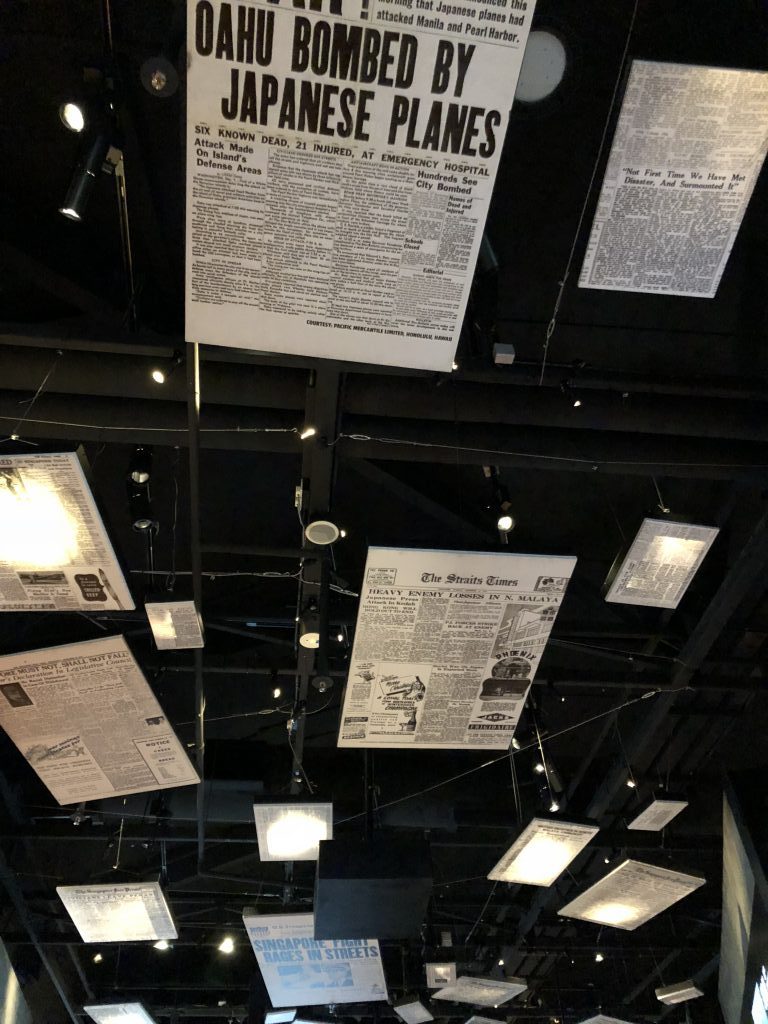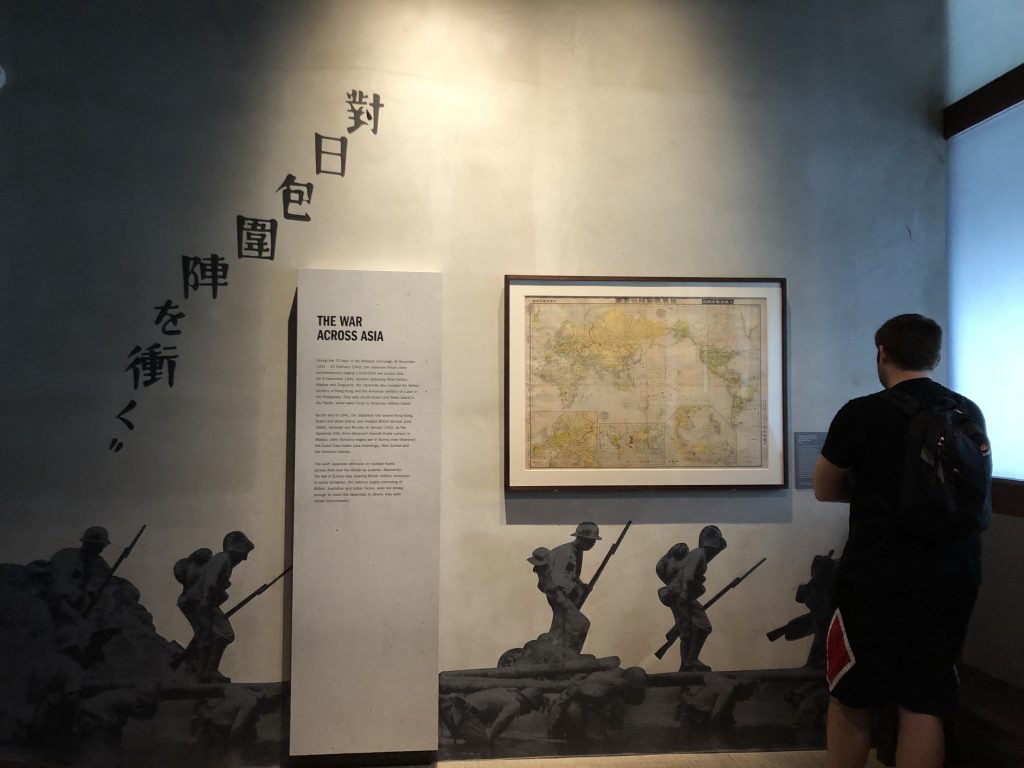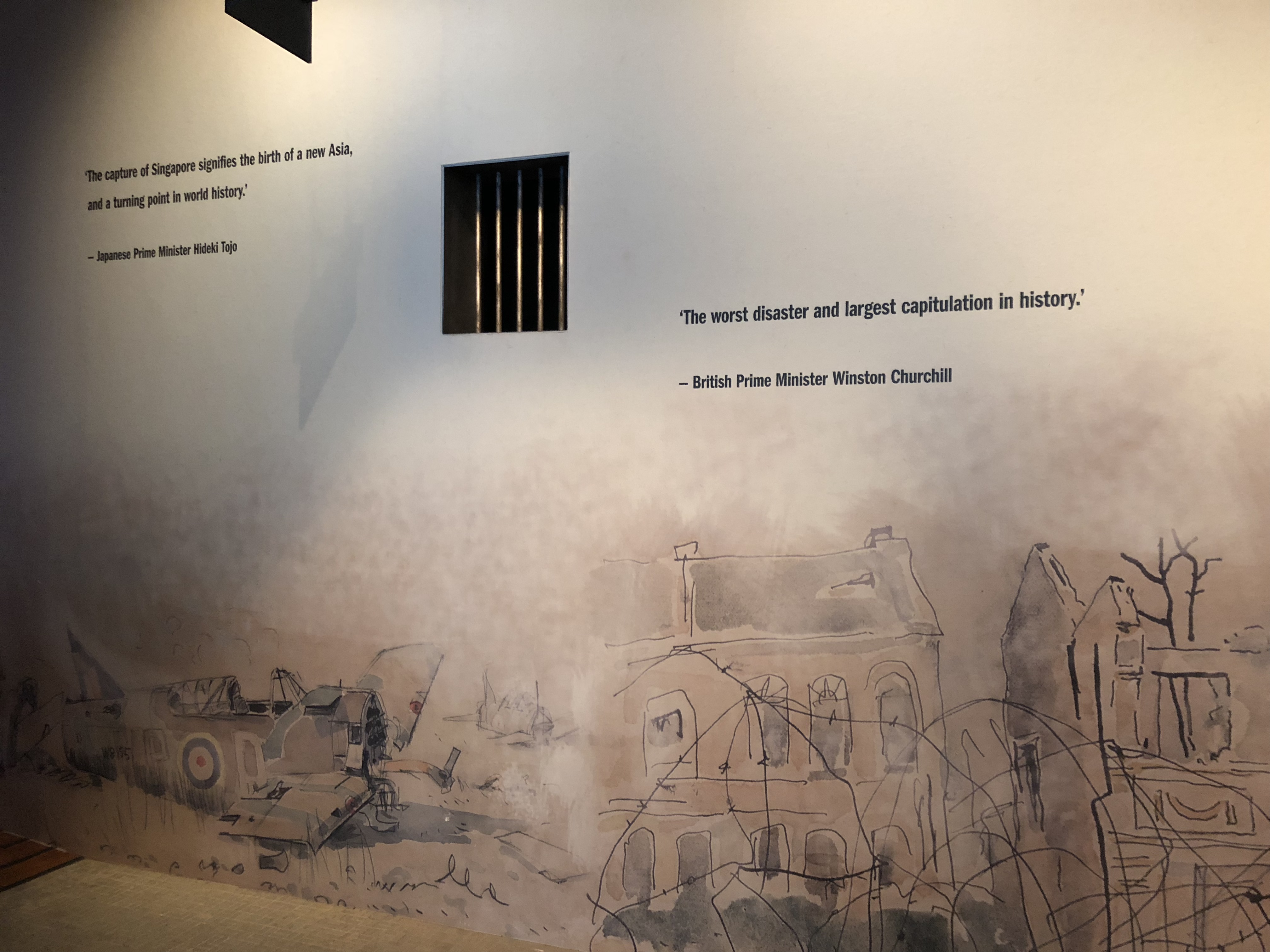 The third part shows how Singapore became Syonan. In this era only people not being anti-Japanese were allowed to leave. They got a stamp on their IDs, registration certificates or on their hands or t-shirts with the Japanese character "examined". The people who didn't get it, where shot. So if you ever hear about "sook ching" or "purging through cleansing" you will now know what this means.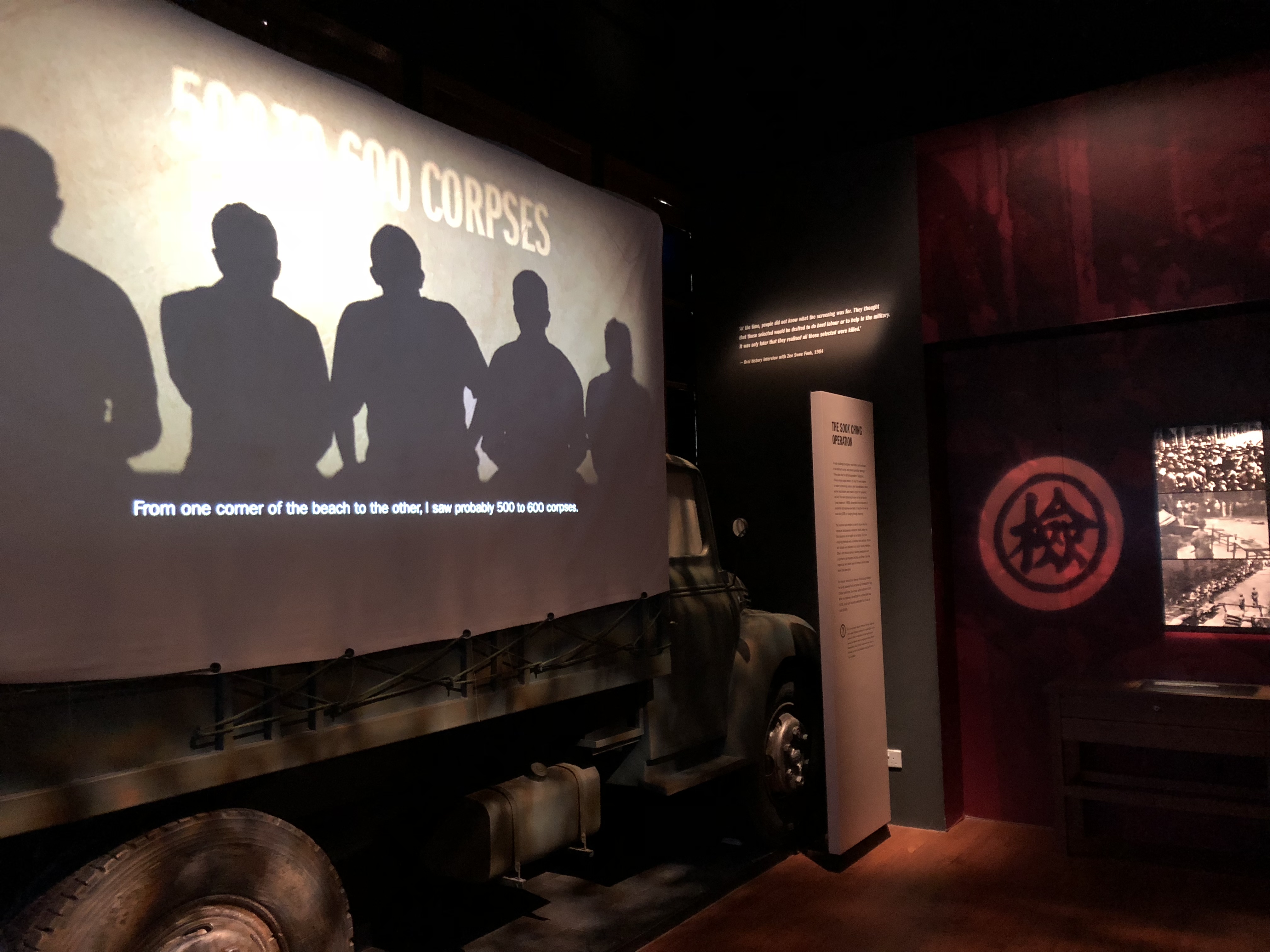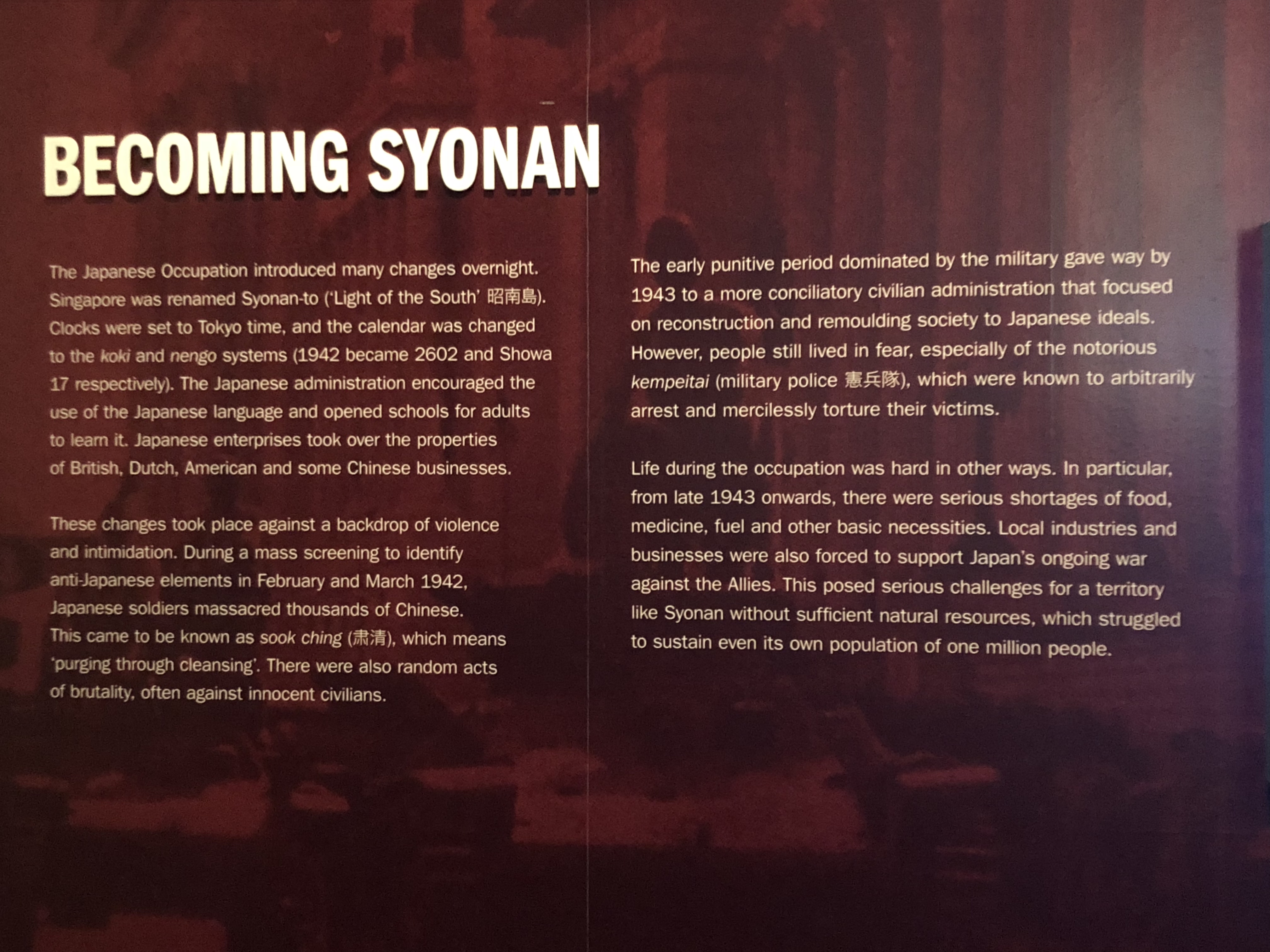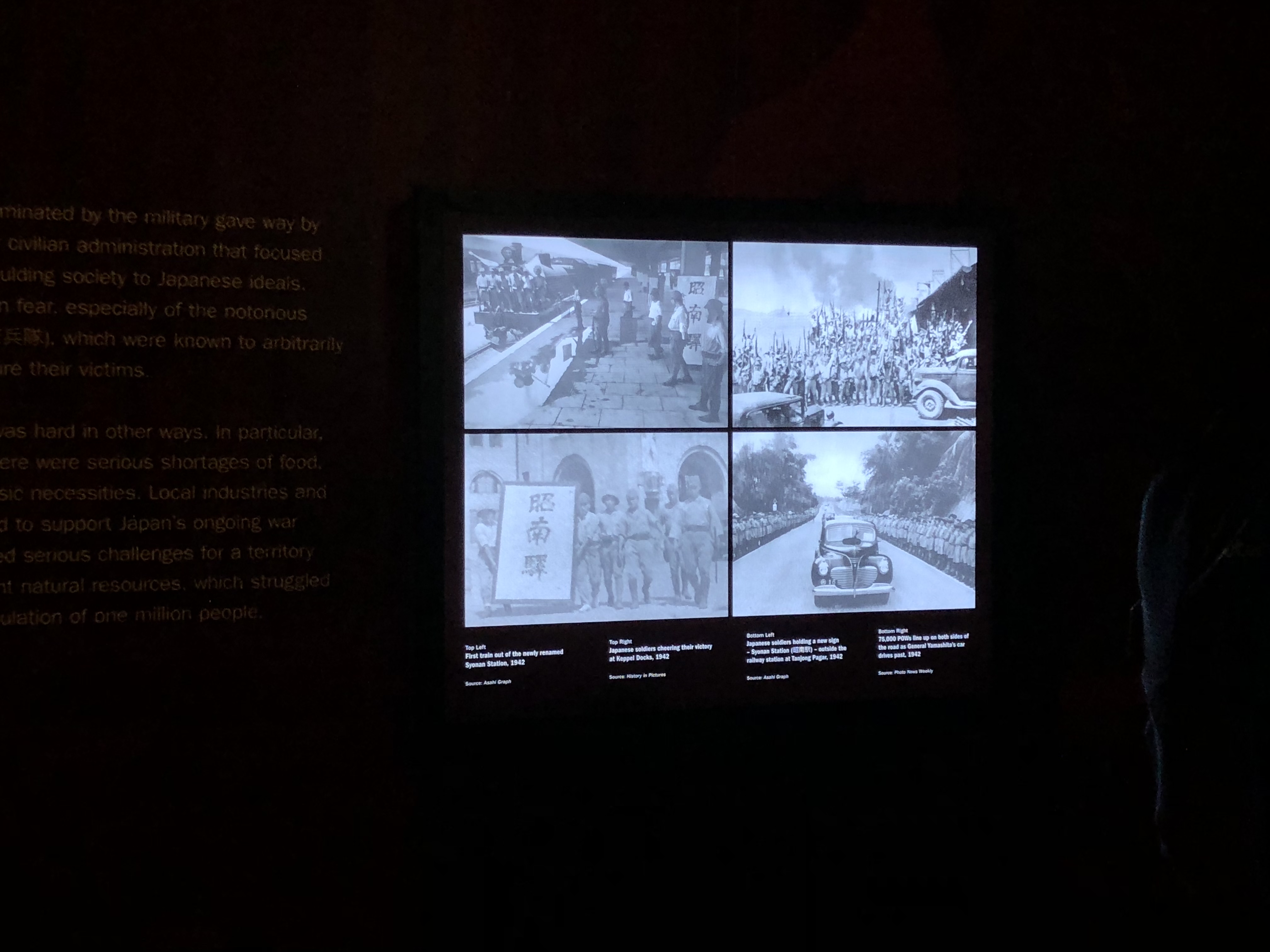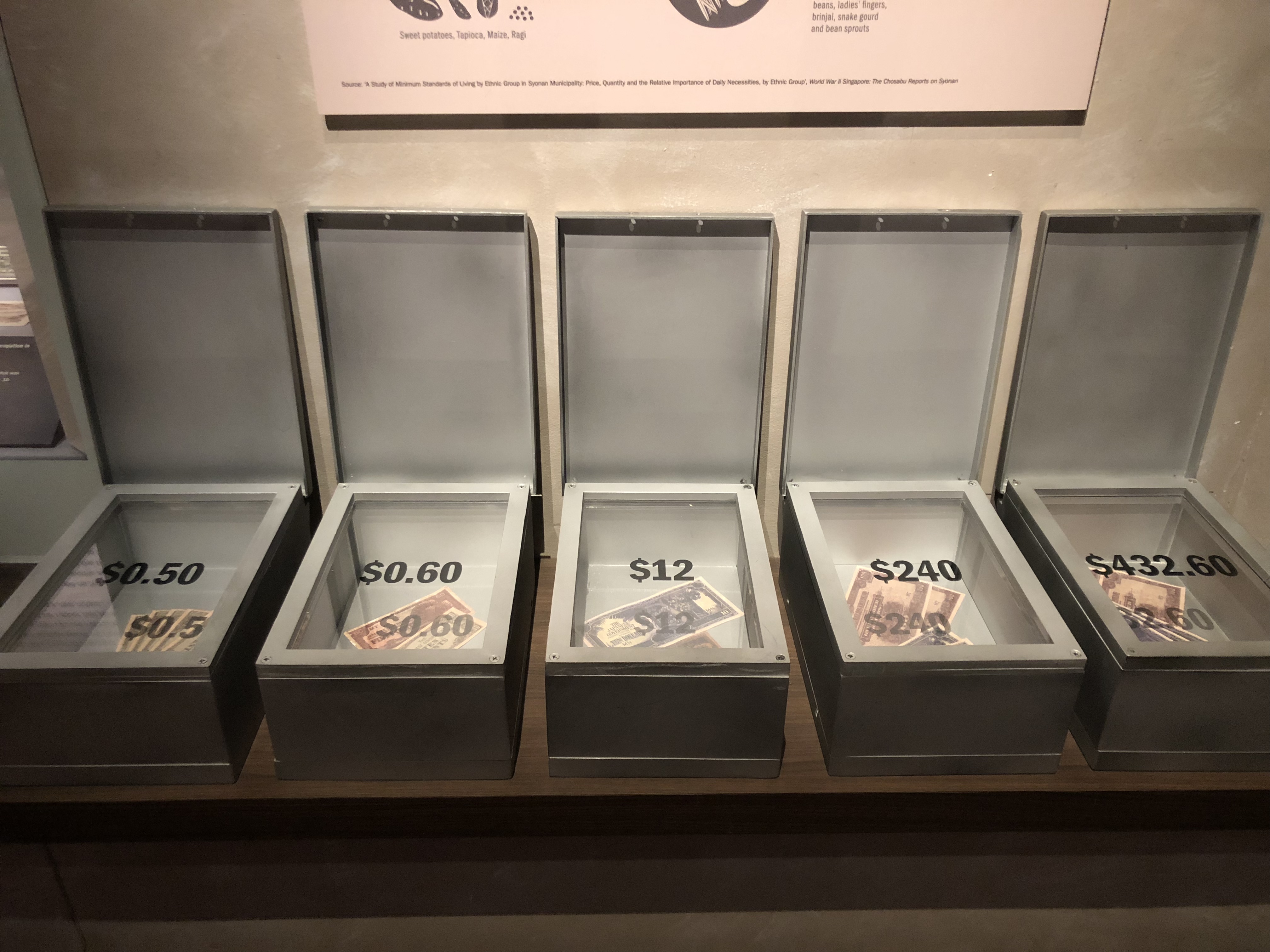 Within the 4th zone the highlights of the legacies of the war and the occupation are shown. There you can have a look at e.g. different medals of commendation, the British military administration message which announced the return of the British in 1945 and the Malayan Pictorial Observer. There was a period called The Malayan Emergency which took place from 1948 to 1960 and was a fighting period of the British colonial government against the Malayan Communist Party. The communists used a lot of Guerilla warfare. Most of this fights occurred in Malaya but the regulations were also utilized in Singapore.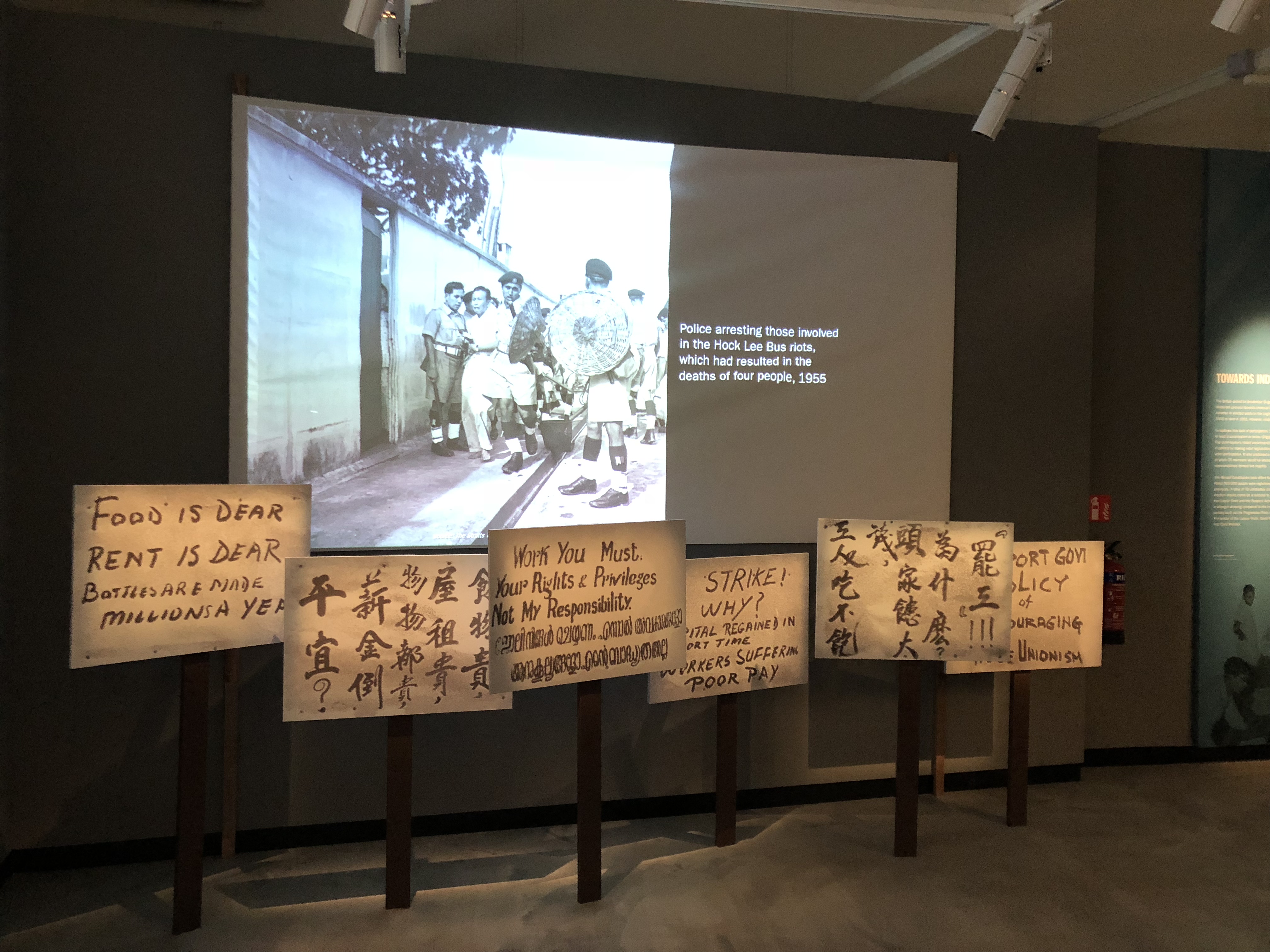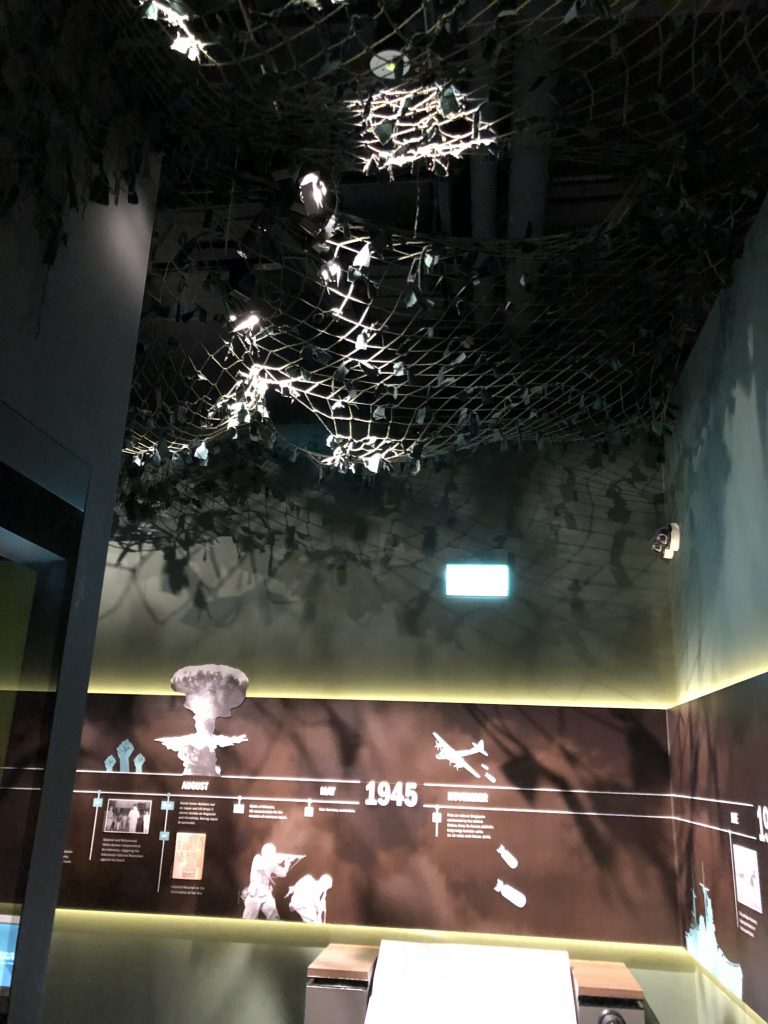 And what would a first day of the journey be without a little fail? I wanted to take some pictures with our Nikon reflex camera and it showed me the r12 error. So we looked it up, what it could be and found out, that the Lenze could be broken. Without really paying any attention to the blinking battery sign. So we decided that our next stop would be the Nikon Singapore Service Center. We took a grap taxi to get there a bit faster and as we got there we couldn't find it at first. That was no surprise as we asked the portier and he told us, that it's up on the ninth floor and we need an entrance card. So long story short: as we got hold of a woman up there she just tried another full charged battery and it worked perfectly again. Luckily we didn't had to pay for our silliness, thanked her and left with pretty red faces. 😂
After this we went back to our hotel, grapped our stuff and got to the airport to catch our flight to New Zealand.
So keep on reading to get to know more funny facts about us and our journey 😉